For sales inquiries,
please contact us at:


sales@thecus.com
For marketing inquiries, please contact us at:


marketing@thecus.com
2005-11-30
Chamoxa makes the versatile NAS device available for all showgoers

11/30/2005 – Voted as the "Consumers Preferred I.T Event" for the year 2004, SITEX is in its fifth successive episode, bringing with it an increased capacity and the return of its massively popular themed pavilions and showcase of communication, computers and consumer electronic products. The show, which runs from November 24th to 27th, expects over 500,000 visitors, with some 500 exhibitors lining up more than 18,000 sq m of hall space featuring a staggering array of the latest consumer IT products. This year, Thecus' N4100 NAS Storage Device was available for all attendees, courtesy of Chamoxa. Renowned hardware website Hardware Zone was there in full force to cover the four-day event.
The Thecus N4100 is quickly winning over the hearts and minds of users and hardware editors alike. Here's what Hardware Zone had to say about the N4100: "Although you can probably build a desktop PC with the same amount of storage capacity with the same hardware cost, what usually eludes buyers is the fact that one should also consider the cost of the operating system as well. Large network shares require a Windows Server operating system, which can easily inflate the setup cost, and not to mention Client Access License (CAL) fees as well. Of course, the cheaper alternative would be building a Linux-based SAMBA share but such an option is usually only for those with good in-depth Linux knowledge. Considering these alternative options, the Thecus N4100 does offer users the better value - not to mention its tremendous space saving design as well. Costing about US$799, this tiny little black box is recommended for small workgroups who want to integrate readily accessible networked shares from a convenient and easy-to-use device."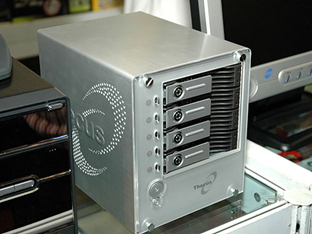 Tom's Hardware Guide was equally impressed with the N4100: "…this device is a solid offering. It worked flawlessly during our tests, features good build quality, and allows easy integration of additional storage space into existing networks, complete with authorization structures (LDAP/Active Directory)."
For Hardware Zone's coverage of Chamoxa's SITEX 2005 booth, check out:
http://www.hardwarezone.com/articles/view.php?id=1771&cid=18&pg=4
For more information on SITEX, go to: http://www.sitex.com.sg/
For more information on Thecus, go to: http://www.thecus.com

---
About Thecus
Thecus® Technology Corp. specializes in IP Storage Server solutions. The company was established in 2004 with the mission to make technology as transparent and easy-to-use as possible, and to make products that are not only the best on the market, but are accessible to experts and novices alike. With a best-in-class R&D team highly experienced in storage hardware and software and with a keen customer focus, Thecus® stays close to the market to develop high-quality products to fulfill the storage needs of today's world.
For more information, please visit the Thecus® website at: http://www.thecus.com
For sales and other inquiries, please contact us via email: sales@thecus.com