For sales inquiries,
please contact us at:


sales@thecus.com
For marketing inquiries, please contact us at:


marketing@thecus.com
2008-04-14
Showgoers impressed with the AMD Geode™ CPU-powered M3800 Stream Box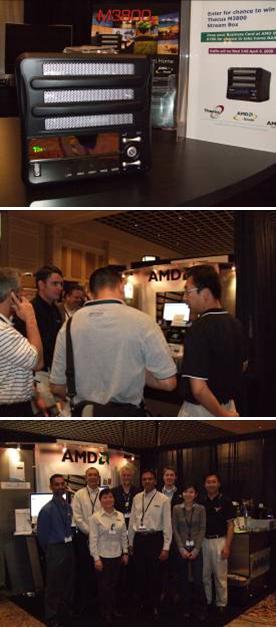 04/14/2008 – Storage Networking World was held from April 7th to 10th in Orlando, Florida, and is the world's largest and foremost storage networking event. This year, Thecus, in partnership with AMD, were at the Rosen Shingle Creek Resort to display Thecus' latest 3-bay home NAS, the M3800, as well as show off the incredibly compact mini PC, the QPC, both powered by the AMD Geode™ Processor.
At the show, attendees visited the Thecus booth and entered their names into a raffle to win a brand-new M3800. The winner of this fabulous prize will be announced soon on the official Thecus website (http://www.thecus.com).
The M3800 Stream Box offers a bevy of features that make it the ultimate home entertainment NAS. Powered by the AMD Geode™ Processor, the M3800 Stream Box delivers the speed required to stream a large variety of media to connected displays. Three 3.5" SATA drive bays offer up to a whopping 3TB of storage, which means that users can store their entire media collection in a single compact device. What's more, the M3800 keeps data safe by offering RAID 0, 1, 0+1, and RAID 5.
As the world's largest storage networking event, visitors can go to SNW to take part in over 140 educational sessions and check out the latest products from the world's top storage solution providers. IT management and professionals can learn, network, and maximize their company's storage capabilities. SNW's vast agenda makes it the well-respected assembly of storage networking professionals in the world.
For more information on AMD, go to:
For more information on Thecus, go to:
---
About Thecus
Thecus® Technology Corp. specializes in IP Storage Server solutions. The company was established in 2004 with the mission to make technology as transparent and easy-to-use as possible, and to make products that are not only the best on the market, but are accessible to experts and novices alike. With a best-in-class R&D team highly experienced in storage hardware and software and with a keen customer focus, Thecus® stays close to the market to develop high-quality products to fulfill the storage needs of today's world.
For sales inquiries, please contact us via email: sales@thecus.com
For marketing inquiries, please contact us via email: marketing@thecus.com