For sales inquiries,
please contact us at:


sales@thecus.com
For marketing inquiries, please contact us at:


marketing@thecus.com
2012-09-18
"This NAS is one that should be on the list when upgrading your SMB or SOHO infrastructure"
09/18/2012 – The Thecus® N5550 NAS is the latest 5-bay device that Thecus® has to offer. The unit rocks the latest Intel® Atom™ processor with 2GB of DDR3 RAM to blaze through multitasking. Main essentials to express include HDMI output for media playback, USB 3.0 and 5-bays for the ability to reach up to 20TB of storage capacity! Real World Labs puts the N5550 through a rigorous array of tests and in the end, results turn heads!
Highlights
Local Display

Innovative hardware

HDMI and USB 3.0

RAID5 benchmarks

RAID10 benchmarks
Local Display
With the release of ThecusOSTM 5.0, users have the ability to directly display their Thecus® N5550 to a HDTV. Local Display module simply eliminates the need to utilize a computer or notebook to manage data on a desired HD screen. Simply attach your Thecus® NAS to TV via HDMI, connect mouse and keyboard to NAS via USB and start navigating.
HDMI and USB 3.0
Innovative I/O such as HDMI and USB 3.0 enhances the user experience, the 5-bay N5550 includes these I/O. HDMI goes hand in hand with local display, in fact, users are able to display HD movies, listen to music, browse photos and even watch live TV (with a TV-Tuner) with third-party multimedia players.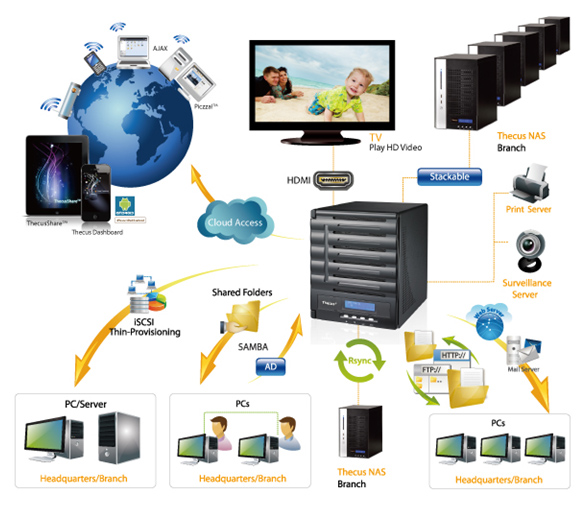 Impressive hardware
Thecus® NAS utilizes the most advance hardware available to the market, being involved in the IT industry for such a long time, it's no wonder editors often praise internal hardware chosen for Thecus® devices.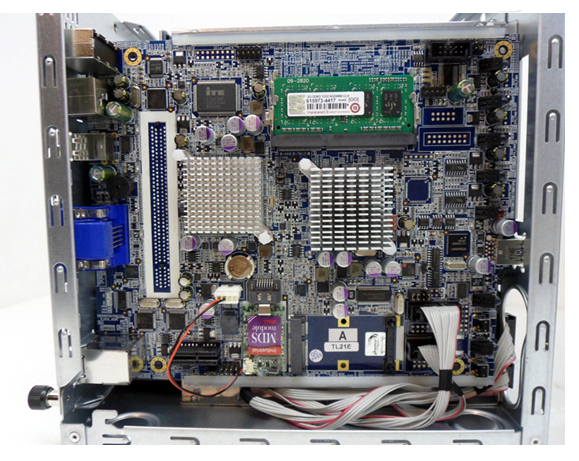 "Opening up the NAS we can see the hardware of the unit. The SODIMM slots are up top with one available if you decide to upgrade the memory. The CPU and graphics chipsets are in the center, and again we see the same SATA DOM as the N2800. To the left of the DOM we are intrigued to see an open mSATA slot, possibly available for use with new mSATA SSDs or possibly a Wireless PCIe card"
Superior RAID5 results
When it comes down to decided which NAS truly performs and which are left in the dust, RAID 5 benchmarks often are chosen to determine the strong and the weak. RAID 5 uses block-level striping with parity data distributed across all member disks. RAID 5 is used majority of the time and to test the NAS in real life situations, Real World Labs proudly presents the N5550's results. The N5550 shines with benchmarking at 102.4MB/s for file copy to NAS.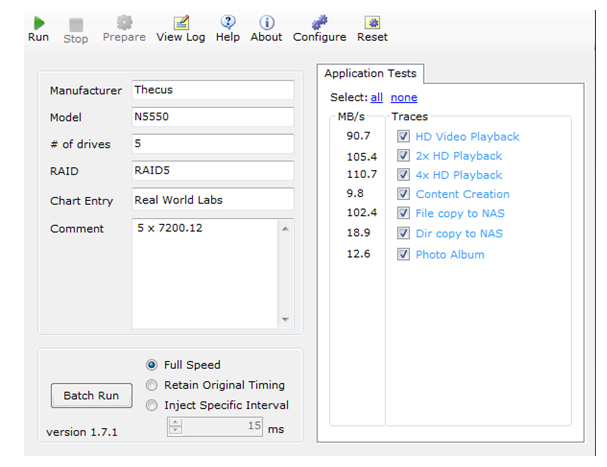 "RAID5 again shows promise that this NAS is ready for business"
RAID10 benchmarks
Usually users don't enter the realm of RAID 10; however it's a clear way to distinguish pure performance. Even under RAID 10, file copy to NAS stays a consistent at 103.8 MB/s.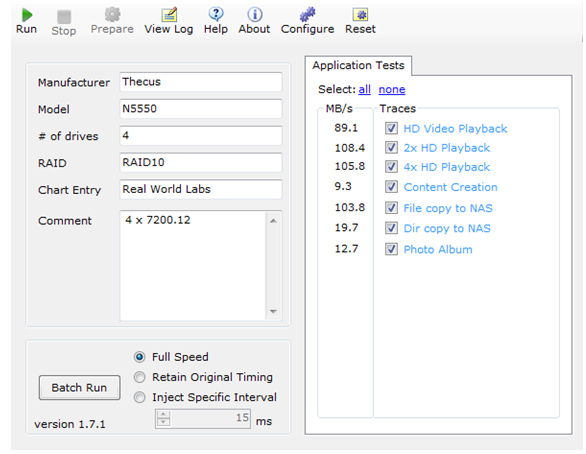 "Being the most complicated type of array, with the most overhead, the N5550 does exceptionally well sticking with speeds seen previously"
Performance summary
The N5550 is a NAS device that offers raw performance, it doesn't express small features here and there; it brings raw data results to the table. Take a look at the performance summary that Real World Labs created.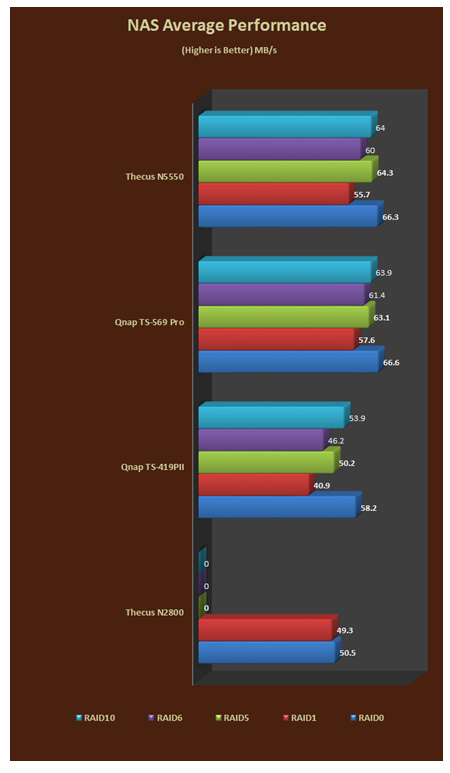 "We have a few NAS appliances in our charts, the first being the N2800 which is the fastest 2 bay NAS we have tested. Next we have the Qnap 419PII a 600$, 4 bay NAS followed by the TS-569 Pro we just reviewed. The Thecus N5550 offers performance equal to the price tag of the 569 Pro at 1025$ for a mere 550$, a pure price to performance win for Thecus."
Conclusion
The Thecus® N5550 is a superior class 5-bay NAS that doesn't skimp on performance and features. Benchmark results show that transfers speeds stay consistent at 103MB/s for RAID5 and RAID10. As Real World Labs simply puts it, "Overall, the N5550 is a great performer – and with Thecus there to support you, this NAS is one that should be on the list when upgrading your SMB or SOHO infrastructure."
For full review, go to:
http://www.rwlabs.com/article.php?cat=&id=677&pagenumber=1
For more information on Thecus® N5550, go to:
http://www.thecus.com/product.php?PROD_ID=76
---
About Thecus®
Established in 2004, Thecus Technology Corp provides market leading network attached storage and network video recorder solutions, committed to revolutionize how everyone from home user to enterprise level business centrally stores, manages and accesses their digital data both onsite and cloud-based. Thecus strives to deliver continuous innovation through cutting edge technology and design to provide data storage with the most customer-friendly platform, rapid performance and robust security. In May 2016, Thecus was formally acquired by Ennoconn Corporation and thus became part of the Foxconn IPC Technology group. Partnered together this diverse group of companies work in tandem to provide a total IoT (Internet of Things) solution. Now with an unparalleled portfolio to work with, Thecus is collaborating to bring unprecedented change to the network storage industry.