For sales inquiries,
please contact us at:


sales@thecus.com
For marketing inquiries, please contact us at:


marketing@thecus.com
2012-09-06
T-OnTheGo™ makes managing data fast and convenient!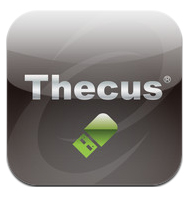 09/06/2012 – Managing data via mobile devices is becoming more and more common, people need to be able to reach and access their data on the move. Thecus® release the new mobile app, T-OnTheGoTM. Thecus® NAS users will need to install T-OnTheGoTM module on their NAS before their mobile device can sync. After the T-OnTheGoTM application allows iPhones and iPads to have full access to transfer files and even stream data on the go.
Highlights
Transfer data

Data Backup

Stream multimedia
Data Backup
T-OnTheGoTM allows users the freedom to easily back up data via their mobile device. As mobile devices are revolutionizing the way how people work and manage data, T-OnTheGoTM enhances the experience. Whether you are close or away from your NAS, T-OnTheGoTM makes it convenient to back up all sensitive data.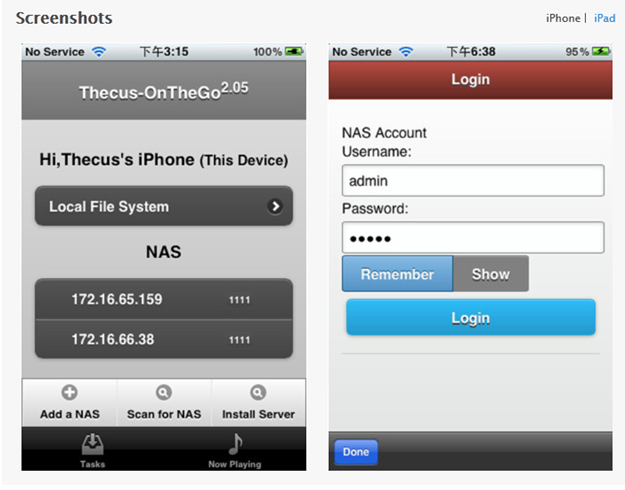 Transfer data
To be able to transfer data to share with family or friends is a great opportunity. Users are not constricted to use their computer to enter their NAS to upload or download files which takes time and effort. However, when using mobile devices, users can only upload photos to their NAS. With T-OnTheGoTM, users are able to download where ever and whenever they like. The mobile app is the sole solution that provides convenience when sharing memories with family and friends.
Multimedia stream
A key benefit of T-OnTheGoTM is the ability to stream multimedia directly from your NAS via your mobile device. Simply store all your high quality multimedia files on your Thecus® NAS and access the multimedia on-the-go, from watching movies on the train, in the car or when you're home away from home; T-OnTheGoTM opens doors and provides accessibility to all your multimedia within a few clicks. Ultimately, media streaming fosters more space on your mobile devices as large files can be stored in your Thecus® NAS which opens more room on your mobile device. In addition, share precious photos stored in your Thecus® NAS with family and friends via mobile device.
Conclusion
T-OnTheGoTM is convenient and simple to use. Users are able to easily access and manage their media from a remote location. Key points include being able to transfer data, back up your vital data remotely and stream multimedia directly from your mobile device. Innovative technology is advancing to ensure user flexibility and convenience, T-OnTheGoTM is an utility that does just that. Have the power to have full access to your files stored in your Thecus® NAS.
For more information about Thecus Mobile Applications, go to:
http://www.thecus.com/sp_mobile.php
---
About Thecus®
Established in 2004, Thecus Technology Corp. is a global provider of network attached storage and network video recorder solutions that empower people to store, manage, and access their digital content. Through cutting-edge hardware and design, Thecus aims to offer users a complete centralized storage solution for both onsite and cloud-based environments. Thecus is committed to providing innovative, user-friendly, and best in class products, services and experience.
For sales inquiries, please contact us via email: sales@thecus.com
For marketing inquiries, please contact us via email: marketing@thecus.com