For sales inquiries,
please contact us at:


sales@thecus.com
For marketing inquiries, please contact us at:


marketing@thecus.com
2008-03-26
Latest Thecus digital storage products on display in Brussels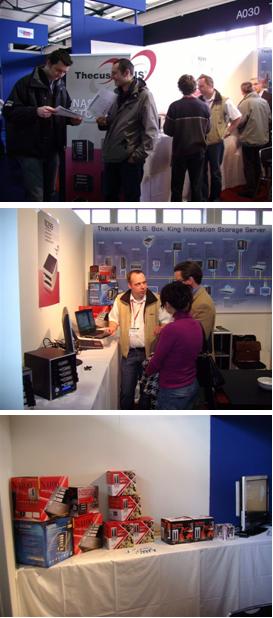 03/26/2008 – From March 19th to 20th, Thecus and JASA brought the latest, most innovative Thecus digital storage products to the Brussels Storage Expo. Located at the Brussels Kart Expo fairgrounds, the Brussels Storage Expo is the largest trade show of its kind in the region, bringing together the major companies in the world of storage. This year, products such as the flexible three-bay N3200 and the incredibly affordable N299 made an appearance at the Brussels Storage Expo, impressing hundreds of show attendees.
Three SATA drive bays not only give the N3200 up to 3TB of storage capacity, but also give users the option of RAID 5. With RAID 5, home users can enjoy the speed of a striped array with the security of complete data redundancy, ensuring that their precious memories will stand the test of time. RAID 5 finally comes home with the N3200.
The N299 is perfect for storing and sharing digital media files with its built-in software suite. The iTunes® Server and Photo Web Server allow users to easily share music and photos respectively with PCs throughout their network. The included Media Server enables users to stream videos and more to compatible uPnP devices such as digital media receivers, allowing them to enjoy their digital media anywhere in the house.
For more information on the Storage Expo, go to:
http://www.storage-expo.be/sites/www_storage-expo_be/en/index.asp
For more information on Thecus, go to:
---
About Thecus
Thecus® Technology Corp. specializes in IP Storage Server solutions. The company was established in 2004 with the mission to make technology as transparent and easy-to-use as possible, and to make products that are not only the best on the market, but are accessible to experts and novices alike. With a best-in-class R&D team highly experienced in storage hardware and software and with a keen customer focus, Thecus® stays close to the market to develop high-quality products to fulfill the storage needs of today's world.
For sales and other inquiries, please contact us via email: sales@thecus.com
For marketing and other inquiries, please contact us via email: marketing@thecus.com