For sales inquiries,
please contact us at:


sales@thecus.com
For marketing inquiries, please contact us at:


marketing@thecus.com
2008-03-04
Unrivaled performance and security for modern enterprises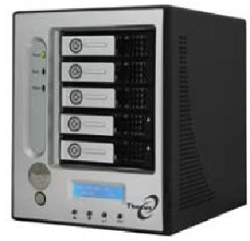 03/04/2008 –
In 2007 Thecus released its flagship N5200 PRO NAS storage device. Aimed at SMBs, the N5200 PRO offered incredible performance and a feature set that was never before seen on such a compact unit. This year, Thecus is poised to raise the bar yet again with its most powerful storage device yet – the
i5500
. Delivering unprecedented iSCSI performance, uninterrupted data capacity expansion, and air-tight security in a cost effective package,
the i5500 offers an unbeatable value proposition for enterprises looking to store and secure mission-critical data.
When businesses need access to their data, they need it fast. The i5500 comes with in Intel® Xscale IOP80331 CPU and 512MB of DDR memory under the hood. This enables the i5500 to deliver incredible iSCSI performance – up to twice the performance of its predecessor the N5200 PRO! With block level data transmission over regular Ethernet, businesses can forgo the prohibitive costs of implementing a fiber channel network altogether. The i5500 comes with five hot-swappable SATA drive bays that accommodate up to 5TB of storage. A wide selection of RAID modes including RAID 0, 1, 0+1, 3, 5, 6, 10, and JBOD as well as instant RAID volume availability, auto volume rebuilding, and support for up to 256 logical volumes offers unbeatable flexibility. And because downtime equals lost revenue, the i5500 also features online RAID expansion allowing businesses to increase their storage capacity without taking down their system. With the i5500 businesses can rest easy knowing they can access their data at all times.
Of course, keeping data safe and secure is also of prime importance. Included with the i5500 is Logical Unit Number (LUN) support, enabling administrators to specify read and write access to specific hosts accessing the unit through the iSCSI protocol. The i5500 also packs advanced data protection capabilities in its compact housing, including Local N-way mirroring, offline array roaming and smart faulty sector relocation. Compatibility with all major operating systems including Windows NT/XP/2003/Vista, Mac OS 9.1 and above including OSX, OSX Server and XSERVE, and all Linux builds with SCSI support ensures seamless integration with existing corporate environments. Administration can be conveniently performed through Thecus' sterling web interface, and should something go amiss, the i5500 can notify administrators immediately via email or SNMP trap.
"We created the i5500 with total performance and security in mind," notes Thecus General Manager Florence Shih. "Following in the footsteps of our acclaimed N5200 PRO, the i5500 represents a new industry benchmark for enterprise-level data storage devices, and is ideal for businesses looking for block level data transmission without the hassle and expense of fiber channel."
For more information on Thecus, go to:
---
About Thecus
Thecus® Technology Corp. specializes in IP Storage Server solutions. The company was established in 2004 with the mission to make technology as transparent and easy-to-use as possible, and to make products that are not only the best on the market, but are accessible to experts and novices alike. With a best-in-class R&D team highly experienced in storage hardware and software and with a keen customer focus, Thecus® stays close to the market to develop high-quality products to fulfill the storage needs of today's world.
For sales inquiries, please contact us via email: sales@thecus.com
For marketing inquiries, please contact us via email: marketing@thecus.com