For sales inquiries,
please contact us at:


sales@thecus.com
For marketing inquiries, please contact us at:


marketing@thecus.com
2008-03-04
2008's hottest NAS product is a total media and storage solution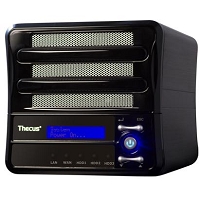 03/04/2008 – Leading storage solution manufacturer Thecus Technology innovates again! This time, Thecus has worked closely with AMD and now introduces the all-new M3800. Coming this spring, the M3800 features AMD technology and delivers a complete media and storage solution perfect for the home.
Based on the AMD Geode™ processor, the M3800's design concept is centered on the home theater. Users can use the M3800 to centrally store, manage, easily access, and enjoy their movie and music files. The whole family can view their favorite blockbuster hits and listen to their favorite tunes without the hassle of having to locate files saved in different locations or multiple machines throughout the house.
"The feature-rich Thecus M3800 combines innovative design and the low-power, high-performance of the AMD Geode processor to deliver a robust centralized home media storage solution," said Buddy Broeker, director of AMD's Embedded Computing Solutions Division. "The M3800 offers a compelling solution for households to easily store and share their digital media throughout the home network."
Headlining the M3800 is its robust media playback capabilities, which include compatibility with the most popular media formats. For video playback, the M3800 supports WMV9, WMVHDand AVI up to a resolution of 1080p. Supported audio formats include WMAand PCM.
But the goodness doesn't end there. The M3800 is the currently the only 3-bay NAS device with home theater video and audio sharing functionality. The M3800 supports RAID 5 for excellent data security, and adds wireless capability to allow all users throughout the house to enjoy stored media anytime they please. In addition, the M3800 supports USB webcams, making it easy for users to keep tabs on what's happening in their homes for added peace of mind.
With the launch of the M3800, Thecus' confidence in the AMD platform is undeniable. "We were really looking forward to working with AMD on this product," commented Thecus General Manager Florence Shih. "When users are enjoying their M3800, we hope that users can experience the care and innovation Thecus puts into each of its products."
For more information on Thecus, go to:
---
About Thecus
Thecus® Technology Corp. specializes in IP Storage Server solutions. The company was established in 2004 with the mission to make technology as transparent and easy-to-use as possible, and to make products that are not only the best on the market, but are accessible to experts and novices alike. With a best-in-class R&D team highly experienced in storage hardware and software and with a keen customer focus, Thecus® stays close to the market to develop high-quality products to fulfill the storage needs of today's world.
For sales inquiries, please contact us via email: sales@thecus.com
For marketing inquiries, please contact us via email: marketing@thecus.com