For sales inquiries,
please contact us at:


sales@thecus.com
For marketing inquiries, please contact us at:


marketing@thecus.com
2008-02-20
Five bay NAS makes a splash with robust features and iSCSI

02/20/2008 – Thecus' flagship NAS, the N5200B PRO, continues to wow hardware editors around the world. The latest review comes from RAM Magazine, Greece's premier PC publication. After a series of tests, RAM Magazine editors were blown away by the N5200B PRO's lengthy feature set, including iSCSI compatibility.
The sheer number of services offered by the N5200B PRO impressed editors: "The total number of provided services constitutes the most impressive element of this NAS! Naturally, between them are SMB/CIFS (for the file sharing in Windows), NFS and FTP. Besides, the N5200B PRO can function as a Media Server that can do streaming to each appliance that supports the UPnP protocol."
iSCSI was also a big hit: "Equally impressive is the support of iSCSI. With the help of this technology, this appliance manages the disks as if they were local. Finally, the particular product functions also as a Printer Server and does automatic backup."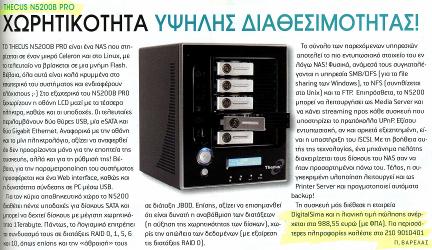 For the full review, check out the February 2008 issue of RAM Magazine.

For more information on the Thecus N5200 PRO, check out:
http://www.thecus.com/products_over.php?cid=12&pid=32

For more information on Thecus, go to: http://www.thecus.com
---
About Thecus

Thecus® Technology Corp. specializes in IP Storage Server solutions, including Network Attached Storage (NAS) and Wireless Media Bank products. The company was established in 2003 with the mission to make technology as transparent and easy-to-use as possible, and to make products that are not only the best on the market, but are accessible to experts and novices alike. With a best-in-class R&D team highly experienced in storage hardware and software and with a keen customer focus, Thecus® stays close to the market to develop high-quality products to fulfill the storage needs of today's world.

For sales inquiries, please contact us via email:
sales@thecus.com
For marketing inquiries, please contact us via email:
marketing@thecus.com