For sales inquiries,
please contact us at:


sales@thecus.com
For marketing inquiries, please contact us at:


marketing@thecus.com
2008-03-01
The King of Storage Innovation Coming to Hannover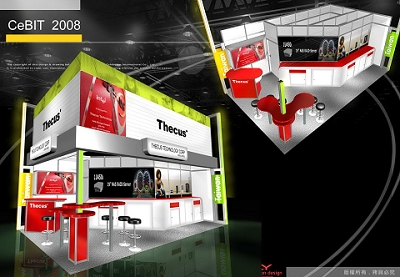 02/15/2008 – Boasting over 480,000 attendees, CeBIT is undoubtedly the world's largest IT-related trade show. From March 4th – 9th, companies from across the IT industry will be there to display the latest in cutting-edge technologies. As one of the world's leading providers of digital storage solutions, Thecus Technology will be at CeBIT 2008 to show off its latest storage innovations to the world, including the three-bay N3200M, the all-new i5500, and some new upgrades to its award winning N5200PRO.
Featuring HDMI, component, and AV out, the Stream Box N3200M can play digital contents directly through your existing home theater system. The Stream Box N3200M supports multiple file formats including MPEG-2, MPEG-4/H.264, WMV9, and VC-1, and even supports Full HD 1080P for playback on today's high-definition LCD TVs. What's more, with the included remote control, you can enjoy movies, music, photos and more from the comfort of your living room couch. Its three SATA drive bays not only accommodate up to 3TB of storage capacity, but also give users the option of RAID 5. With RAID 5, home users can enjoy the speed of a striped array with the security of complete data redundancy, ensuring that their precious memories will stand the test of time. With a built-in iTunes® Server, Photo Web Server, and DLNA-compatible Media Server, the Stream Box N3200M is your total media storage and playback solution.
With the release of the N5200PRO, Thecus quickly rocketed to the top of the performance charts. At CeBIT 2008, the storage world will rumble once again with the release of the all-new i5500 iSCSI RAID Storage Device. As Thecus' new top-of-the-line iSCSI RAID unit, users can expect a storage that delivers up to twice the iSCSI rate of even the top-performing N5200PRO! The i5500 will also feature volume sharing among multiple hosts, as well as RAID 6 support. Storage fans will certainly not want to miss catching a glimpse of the i5500 at CeBIT 2008.
But of course, in true Thecus tradition, N5200PRO users won't be left out in the cold. At CeBIT, they will be able to see the N5200PRO in action with its newly introduced stackable feature, which allows users to expand the capacity of their network storage with up to five external iSCSI storage devices! All this and more await you at Thecus' CeBIT 2008 booth.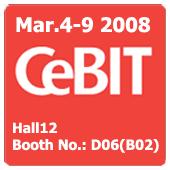 "Since the beginning, Thecus has revolutionized the world of network storage by introducing products that go above and beyond," says Thecus General Manager Florence Shih. "At CeBIT 2008, users are invited to see just what we've been up to over the past several months. I'm confident that we have created a line up that, more than ever, exceeds the expectations of users living the digital lifestyle."
Visit Thecus Technology at Hall 12, Booth D06 (B02).
For more information on CeBIT, go to: http://www.cebit.de/.
For more information on Thecus, go to: http://www.thecus.com
---
About Thecus

Thecus® Technology Corp. specializes in IP Storage Server solutions. The company was established in 2004 with the mission to make technology as transparent and easy-to-use as possible, and to make products that are not only the best on the market, but are accessible to experts and novices alike. With a best-in-class R&D team highly experienced in storage hardware and software and with a keen customer focus, Thecus® stays close to the market to develop high-quality products to fulfill the storage needs of today's world.
For sales inquiries, please contact us via email:
sales@thecus.com
For marketing inquiries, please contact us via email:
marketing@thecus.com