For sales inquiries,
please contact us at:


sales@thecus.com
For marketing inquiries, please contact us at:


marketing@thecus.com
2008-02-11
The latest in digital storage comes to Paris, France

02/11/2008 – From February 5th ~ 6th, Thecus Technology, in association with Asialand, attended the IT Partners Show. Held at none other than the Disneyland Resort in Paris, France, the Magic Kingdom played host to one of the region's largest events for hardware, software, and telecom products. At the show, attendees caught a glimpse of the latest in Thecus gear, including the N3200.
The N3200 comes with three SATA drive bays, which allows home users to take advantage of the benefits of RAID 5. With a completely tool-less design, installing and removing disks is a snap, which means that users can spend more time enjoying their digital media and less time setting things up.
The IT Partners Show welcomes industry professionals from all over Europe, and aims to unify market players and create new opportunities for trade. It is an annual community event that strengthens relationships between solution providers and their distribution partners.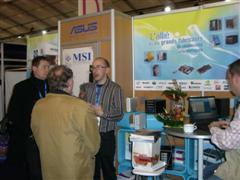 For more information on the IT Partners Show, go to: http://www.it-partners.fr/
For more information on Thecus, go to: http://www.thecus.com
---
About Thecus
Thecus® Technology Corp. specializes in IP Storage Server solutions. The company was established in 2004 with the mission to make technology as transparent and easy-to-use as possible, and to make products that are not only the best on the market, but are accessible to experts and novices alike. With a best-in-class R&D team highly experienced in storage hardware and software and with a keen customer focus, Thecus® stays close to the market to develop high-quality products to fulfill the storage needs of today's world.
For sales inquiries, please contact us via email:
sales@thecus.com
For marketing inquiries, please contact us via email:
marketing@thecus.com