For sales inquiries,
please contact us at:


sales@thecus.com
For marketing inquiries, please contact us at:


marketing@thecus.com
2008-02-12
Three-bay RAID 5 NAS takes HWM Silver Award

02/12/2008 – Sporting three SATA drive bays and a slew of user-friendly features, the Thecus N3200 brings RAID 5 home. The latest report comes from the editors of HWM Thailand, who subjected the N3200 to a series of tests. They discovered that the N3200 is a perfect storage solution for both the home and office, awarding with their Silver Award!
HWM editors begin with a short introduction to the N3200: "One can't deny the uses of central data storage unit in the home, or in small-to-medium-sized organizations that have many computers within the same network and must share files together. Thus, the product that we are recommending today helps solve this very problem. This product from Thecus, the N3200 NAS Sever, has outstanding design, compact size and luxurious finish in addition easy usability. Users only need to add hard disks to use Thecus N3200. The front of the Thecus N3200 and its handy LCD display, informs users of system status and settings."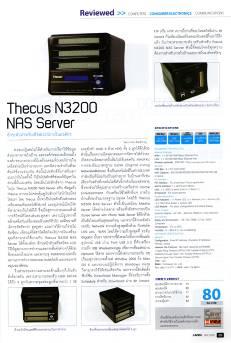 Users of the N3200 are treated to a wide selection of useful features: "The Thecus N3200 supports three SATA hard disk bays, each with storage capacities of up to 1 TB. Also included is support for RAID 5. With it, you can forget about the possibility of data loss. Support for DLNA, which is popular in foreign countries, can enable media streaming with DLNA-compatible devices, and it can be an iTunes Server and Photo Web Server as well. In addition, you can connect it to your network with LAN and WAN, and it also supports USB 2.0 and USB wireless dongles for easy wireless access to your data. The N3200 supports multiple OSes, including Windows 2000, MAC OS X and Windows Vista. It also has a Download Manager for BT, FTP or HTTP downloads, allowing you to download without having to have your computer running all the time."
The verdict from HWM: "The Thecus N3200 is an ideal answer for every storage requirement for your home and office."
For the full review, check out the January 2008 issue of HWM Thailand.
For more information on the Thecus N3200, check out: http://www.thecus.com/products_over.php?cid=11&pid=48
For more information on Thecus, go to: http://www.thecus.com
---
About Thecus

Thecus® Technology Corp. specializes in IP Storage Server solutions, including Network Attached Storage (NAS) and Wireless Media Bank products. The company was established in 2003 with the mission to make technology as transparent and easy-to-use as possible, and to make products that are not only the best on the market, but are accessible to experts and novices alike. With a best-in-class R&D team highly experienced in storage hardware and software and with a keen customer focus, Thecus® stays close to the market to develop high-quality products to fulfill the storage needs of today's world.
For sales inquiries, please contact us via email:
sales@thecus.com
For marketing inquiries, please contact us via email:
marketing@thecus.com