For sales inquiries,
please contact us at:


sales@thecus.com
For marketing inquiries, please contact us at:


marketing@thecus.com
2008-02-08
Five-bay NAS storage device "perfect for SOHOs"

02/08/2008 – For SOHOs, finding a powerful, easy-to-use storage solution that keeps data totally secure is a major priority. Losing critical data could mean thousands of dollars in lost revenue and productivity. Thecus has the ideal solution with the N5200PRO. With big storage capacity, a laundry list of data security options, and complete ease-of-use, the N5200PRO is a godsend for the ever expanding SOHO market. Recently, the editors of PVD Magazine put the N5200PRO through the wringer, and were extremely impressed with it, saying that it is perfect for SOHOs.
PVD editors liked how expandable the N5200PRO is: "The N5200PRO is the solution which starts from basic but can reach very high level and even simple depending on your demand. Furthermore, with the additional features that makes the data expansion much easier."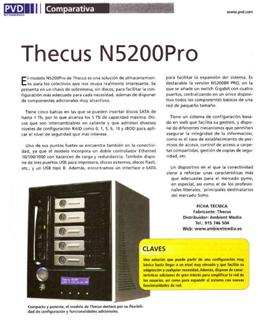 The N5200PRO has no shortage of features: "The N5200PRO can be installed up to 5 TB with 5 Bays and expanded the capacity through eSATA and USB connection. Another version, N5200BR PRO is with 4-port Gigabit switch that could centralize all data through networking. It makes Thecus N5200PRO series like a little giant. In addition, users can set up the security level by managing the web interface."
The verdict?"The N5200PRO is perfect for SOHOs."
For the full review, check out PVD Magazine.
For more information on the Thecus N5200PRO, check out:
http://www.thecus.com/products_over.php?cid=12&pid=32
For more information on Thecus, go to: http://www.thecus.com
---
About Thecus

Thecus® Technology Corp. specializes in IP Storage Server solutions, including Network Attached Storage (NAS) and Wireless Media Bank products. The company was established in 2003 with the mission to make technology as transparent and easy-to-use as possible, and to make products that are not only the best on the market, but are accessible to experts and novices alike. With a best-in-class R&D team highly experienced in storage hardware and software and with a keen customer focus, Thecus® stays close to the market to develop high-quality products to fulfill the storage needs of today's world.

For sales inquiries, please contact us via email:
sales@thecus.com
For marketing inquiries, please contact us via email:
marketing@thecus.com