For sales inquiries,
please contact us at:


sales@thecus.com
For marketing inquiries, please contact us at:


marketing@thecus.com
2012-07-05
The volume management tool that can save you some space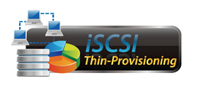 07/05/2012- What is iSCSI thin provisioning and how can it benefits your company? Read a little more and you'll see how this feature will keep you from buying more terabits before you really need it.
Fat provisioning
The reason why thin provisioning exists is because of the problem encounter with fat provisioning (FT). FP is the most basic and easy to understand storage provisioning method. Let's say that you have a company of 4 employees that need to access a NAS with 5TB. The administrator predicts that each person needs a minimum of 500GB therefore reserving this amount for each person. The rest (3TB) is reserve for a shared folder to be use by everyone. If after 6 month only, our employee number 1 has filled up his allocated storage space, then the administrator is forced to add more storage to its pool as everything else is locked up for other users.
But the truth is that employee number 2, 3 and 4 are the total opposite of employee number 1. They only use 50% of their allocated storage area and the public share area is only used at 50% too! That means over 2TB is available for employee number 1 to use, but unfortunately, inaccessible. In other words, large amounts of storage space are paid for but may never be used. That is where thin provisioning (TP) comes to saves the day.
Thin provisioning
With thin provisioning, you now have a way to optimize the efficiency with which the available space is utilized. The problem encountered with FP is that the space utilization rate is low. A large amount of storage space is paid for but may never be used. In TP, these problems are something of the past. The way TP works is that it gives virtual disk storage space to the users, physically using only the minimum space required by each user at any given time.
Let's go back to our example. The same 4 employees have access to a storage pool of 5TB. Except that with thin provisioning, the administrator can allocate virtual memory instead of physical memory. With a total of 16TB of possible virtual memory, the admin can allocate as much as the employee may need in the future. As time goes by the physical will reach its limit, once it gets up to 90%, the administrator will receive a notification and can then decide to add some terabits to its pool of storage. From the user's point of view, the addition will be unnoticeable. From the administrator's one, extra storage is only required only when really required.
Thecus® iSCSI Thin Provisioning
The advanced iSCSI Thin Provisioning is a feature available on the majority of the Thecus® NAS. It allows administrators to create up to 5 iSCSI Thin-Provision targets under one iSCSI Thin-Provision volume. These iSCSI targets will share physical storage space from the iSCSI Thin-provision volume. iSCSI Thin-Provisioning prevents administrators from over provisioning physical storage space before it is actually needed, thus greatly reducing capital spending on storage for businesses of all scales. Added benefits include reduced consumption of electrical energy, smaller hardware space requirements and reduced heat generation compared to the FP storage systems.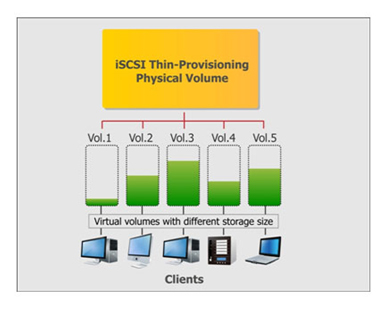 ---
About Thecus®
Established in 2004, Thecus Technology Corp provides market leading network attached storage and network video recorder solutions, committed to revolutionize how everyone from home user to enterprise level business centrally stores, manages and accesses their digital data both onsite and cloud-based. Thecus strives to deliver continuous innovation through cutting edge technology and design to provide data storage with the most customer-friendly platform, rapid performance and robust security. In May 2016, Thecus was formally acquired by Ennoconn Corporation and thus became part of the Foxconn IPC Technology group. Partnered together this diverse group of companies work in tandem to provide a total IoT (Internet of Things) solution. Now with an unparalleled portfolio to work with, Thecus is collaborating to bring unprecedented change to the network storage industry.