For sales inquiries,
please contact us at:


sales@thecus.com
For marketing inquiries, please contact us at:


marketing@thecus.com
2008-01-15
Feature packed NAS storage with iSCSI stands out in roundup

01/15/2008 – With the combination of mature, wide-spread broadband Internet and TCP/IP usage, iSCSI can deliver the benefits of SAN with easy management at a low cost, and has completely replaced other IP storage protocols. Computer publication iThome recently introduced iSCSI devices available on the market, including Thecus' star product, the N5200B PRO. After subjecting the N5200B PRO to a series of rigorous tests, editors were thoroughly impressed with its small form factor and robust feature set.
Here is iThome's introduction to the N5200B PRO: "Of the 10 products we've tested in this roundup, the N5200B PRO is the most compact. It can accommodate five 3.5" SATA hard disks, and also supports RAID 0/1/5/6/10 and JBOD."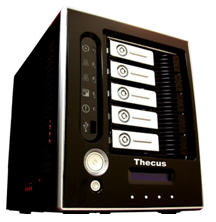 Besides impressive storage options, editors really liked the N5200B PRO's extensive feature set: "This NAS device may be small, but comes with a full array or ports. In the back are two GbE ports and one eSATA port. Managing the N5200B PRO is mostly done through a web-based interface, although the front-mounted LCD display gives information such as IP addresses. In terms of small NAS with iSCSI devices, this is a very good specification."
For the full review, check out Issue 326 of iThome Magazine.
For more information about Thecus, visit http://www.thecus.com.
---
About Thecus
Thecus® Technology Corp. specializes in IP Storage Server solutions, including Network Attached Storage (NAS) and Wireless Media Bank products. The company was established in 2003 with the mission to make technology as transparent and easy-to-use as possible, and to make products that are not only the best on the market, but are accessible to experts and novices alike. With a best-in-class R&D team highly experienced in storage hardware and software and with a keen customer focus, Thecus® stays close to the market to develop high-quality products to fulfill the storage needs of today's world.
For sales inquiries, please contact us via email:
sales@thecus.com
For marketing inquiries, please contact us via email:
marketing@thecus.com