For sales inquiries,
please contact us at:


sales@thecus.com
For marketing inquiries, please contact us at:


marketing@thecus.com
2008-01-30
"Sophisticated network-storage hardware at an attractive price"

02/01/2008 – If you're looking for a truly affordable way to store and share your data, the N299 from Thecus should certainly be on your shortlist. The editors of PC Advisor recently took a close look at the N299, and after a gamut of tests, discovered that under the bargain sticker price is a piece of sophisticated network storage hardware.
PC Advisor begins by introducing the N299: "The Thecus N299 is a networked-attached storage (NAS) device – an external hard disk that plugs into a spare network port. It's thus available to all PCs on your network, which makes NAS boxes much more convenient than standard USB or FireWire external drives – Windows and Mac users can map folders on the N299 that look like any other drive on their PC."
The N299 comes with several storage options right out of the box: "Our 1TB unit had two 500GB Sata drives installed and, as this is a Raid device, you can treat them as a JBOD pair or configure them as Raid 0 or 1, which takes but a couple of mouse clicks to set up. Raid 0 is nippy but halves the reliability. Raid 1 mirrors one drive to the second, so you gain improved reliability at the cost of capacity. The Thecus N299 also has six indicator LEDs on the front but, for most of the time, these are either unlit or appear that way."
The amount of features on the N299 never fails to impress: "The Thecus N299 does a lot more than simple file serving. It can function as a print server and stream media, it can be used for FTP sharing and will even take care of timed backups and store files on its web server."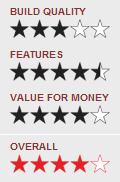 The verdict? "The Thecus N299 brings sophisticated network-storage hardware to the domestic market at an attractive price."
For the full review, check out:
http://www.pcadvisor.co.uk/reviews/index.cfm?reviewid=1585
For more information on the Thecus N299, check out:
http://www.thecus.com/products_over.php?cid=10&pid=52
For more information on Thecus, go to: http://www.thecus.com
---
About Thecus

Thecus® Technology Corp. specializes in IP Storage Server solutions, including Network Attached Storage (NAS) and Wireless Media Bank products. The company was established in 2003 with the mission to make technology as transparent and easy-to-use as possible, and to make products that are not only the best on the market, but are accessible to experts and novices alike. With a best-in-class R&D team highly experienced in storage hardware and software and with a keen customer focus, Thecus® stays close to the market to develop high-quality products to fulfill the storage needs of today's world.
For sales inquiries, please contact us via email:
sales@thecus.com
For marketing inquiries, please contact us via email:
marketing@thecus.com