For sales inquiries,
please contact us at:


sales@thecus.com
For marketing inquiries, please contact us at:


marketing@thecus.com
2012-06-22
"Yet again I have been wowed by a NAS box from Thecus"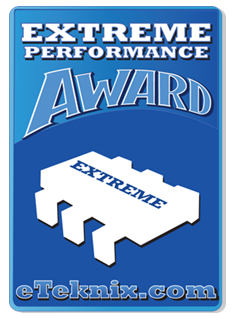 06/22/2012 – Thecus® N5550 performance benchmarks amaze popular UK media, eTeknix. The powerful N5550 equips the latest Intel® Atom™ CPU paired with 2GB of DDR3 RAM. Moreover, necessary I/O outputs are important as the N5550 conveniently offers USB 3.0 for rapid speeds and HDMI output for multimedia tasks. As many know, the N5550 is a part of the Thecus® Vision Series and the largest unit of the series at the moment, it's no surprise that performance is the sole aspect of the new Thecus® 5-bay NAS. In fact, eTeknix gives the Thecus® N5550 "Extreme Performance" award for its excellence.
Key Features
Balance between cost and size

Extreme performance

Video playback via HDMI and VGA

Advanced I/O outputs
Balance between cost and size
Often times, users are caught between the battle of a 4-bay and 6-bay NAS, as they are the common size that companies offer. However, Thecus® steps outside the box and engages with full throttle to promote the 5-bay N5550 NAS. In short, 4-bays offer limited space and 6-bay cost is over budget for some, the simple solution is the N5550 as it offers more space and its price isn't too much different compared to the smaller N4800 4-bay NAS.
Extreme power
As the N5550 is the largest Vision Series NAS, it comes as no surprise that performance is one aspect that is emphasized. eTeknix utilizes NASPT to get clear and accurate benchmarks.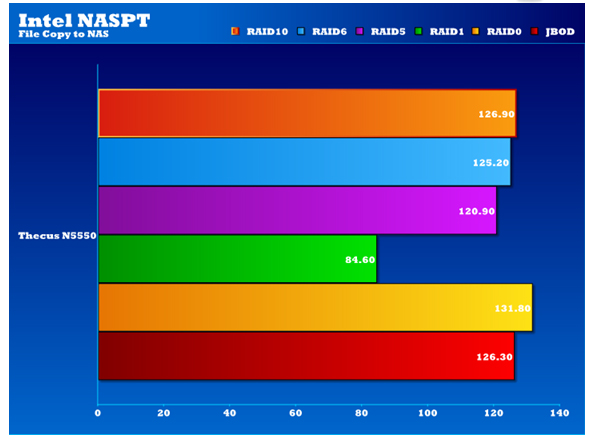 "Going back to the HD video record, we noted how the N5550 was able to put through a high volume of data, but this is nothing compared to what we found in the file copy to NAS test environment. RAID0 here shows the advantages clearly of more and more disks connected as one, pushing the speeds right up to 131.8MBs."
Benchmark clearly illustrates that performance is topnotch. In fact, eTeknix's editor contacted me directly to double check whether the numbers were correct and surely benchmark numbers were within range. Performance is what the N5550 delivers, transfer speeds, data backup and NAS management is all a simply breeze with the power and performance that the 5-bay N5550 produces.
Video playback
Thecus® Vision Series presents itself as true multimedia center; with HDMI output users have the ability to connect their Thecus® NAS directly to their HDTV for beautiful and crystal clear high definition movies. In addition, since audio and video is transferred from HDMI out, managing your Thecus® NAS is that much more convenient. Simply put, eliminating desktops or notebooks and directly connecting your Thecus® NAS to HDTV via local display, users can effortlessly access the NAS UI for easy management, XBMC and VLC for multimedia fun!
The verdict
The Thecus® N5550 is a superior 5-bay machine that elevates NAS experience in every way. First, the price that is required to be shelled out for an impressive whopping 5-bay is clearly a bargain. Next, extreme performance is key factor, as mentioned benchmark tests displays blazing speeds.
"Yet again I have been wowed by a NAS box from Thecus, and without thinking about it I would happily recommend any of their products to anyone that is in the market for network storage."
As a multimedia device as the backbone of the Vision Series, HDMI allows endless options for media needs. To add, USB 3.0 is a perk as it included in the package. Ultimately, the Thecus® N5550 is a 5-bay NAS that will set new standards while moving forward.
For full review, go to:
http://www.eteknix.com/reviews/networking/thecus-n5550-5-bay-nas-review/
For more information on Thecus® N5550, go to:
http://www.thecus.com/product.php?PROD_ID=76
---
About Thecus®
Established in 2004, Thecus Technology Corp provides market leading network attached storage and network video recorder solutions, committed to revolutionize how everyone from home user to enterprise level business centrally stores, manages and accesses their digital data both onsite and cloud-based. Thecus strives to deliver continuous innovation through cutting edge technology and design to provide data storage with the most customer-friendly platform, rapid performance and robust security. In May 2016, Thecus was formally acquired by Ennoconn Corporation and thus became part of the Foxconn IPC Technology group. Partnered together this diverse group of companies work in tandem to provide a total IoT (Internet of Things) solution. Now with an unparalleled portfolio to work with, Thecus is collaborating to bring unprecedented change to the network storage industry.