For sales inquiries,
please contact us at:


sales@thecus.com
For marketing inquiries, please contact us at:


marketing@thecus.com
2012-06-14
Evolutionary digital security support for storage users!
06/14/2012- McAfee AntiVirus protects Thecus® NAS, giving users the security and confidence while managing sensitive data. NAS protection is seldom looked into; however it's important to have a reliable antivirus fully operating on a NAS, as it is to back up digital data. The predicament whether essential data is safe or not is a serious note. In fact, if your NAS is not protected, the information inside aren't as well. Ultimately, Thecus® NAS are outfitted with McAfee AntiVirus module to offer the most secure NAS on the market.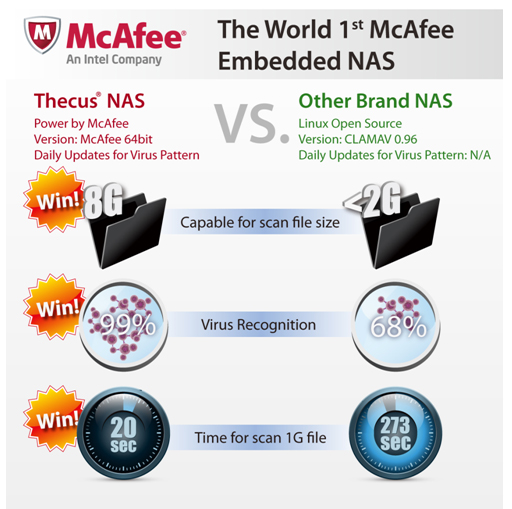 Daily updates for virus pattern
McAfee AntVirus presents daily updates for virus pattern, which allows the antivirus to detect and remove any viruses that may cause potential harm. As viruses are prevalent these days when transferring or backing up data, it's clear that NAS users must optimize the most technologically advanced antivirus module. Most important, as the antivirus software updates daily, it's a certainty that viruses stand a slim-to-none chance.
Offer high percentage to catch virus threats
An astonishing 99% of viruses are recognized before they can go anywhere near vital data. Perks like this give the user the confidence they deserve when managing important data. Virus prevention and protection is the soul concept of McAfee and this is why Thecus® NAS pairs with McAfee to battle daily assignments.
Large scan capacity
In this era, NAS users manage huge files and rely on a valuable antivirus to carry on day-to-day tasks. McAfee AntiVirus has the capability to scan files up to 8G; which is remarkable compared to contenders hovering at 2G files. NAS gurus can depend on the efficiency that McAfee offers, scanning large files is a bottleneck no more.
Reduce scan time
As mentioned, more and more NAS users are handling huge files and this requires a method to cut time when possible. This is where McAfee AntiVirus shines; the required time to scan a 1G file only takes twenty seconds! That's a fraction of the time compared to others, McAfee fast scanning slashes time, provides efficiency and confers NAS stability.
In the end, McAfee's perpetual antivirus updates, capability to scan large files and rapid scanning speed supplies over-the-top antivirus support and then some. Uncovering new vulnerabilities to eliminate troubles before they even start.

For more information on McAfee, go to: http://www.mcafee.com/
---
About Thecus®
Established in 2004, Thecus Technology Corp provides market leading network attached storage and network video recorder solutions, committed to revolutionize how everyone from home user to enterprise level business centrally stores, manages and accesses their digital data both onsite and cloud-based. Thecus strives to deliver continuous innovation through cutting edge technology and design to provide data storage with the most customer-friendly platform, rapid performance and robust security. In May 2016, Thecus was formally acquired by Ennoconn Corporation and thus became part of the Foxconn IPC Technology group. Partnered together this diverse group of companies work in tandem to provide a total IoT (Internet of Things) solution. Now with an unparalleled portfolio to work with, Thecus is collaborating to bring unprecedented change to the network storage industry.