For sales inquiries,
please contact us at:


sales@thecus.com
For marketing inquiries, please contact us at:


marketing@thecus.com
2008-01-25
Select models receive Stacked NAS and IP Cam functionality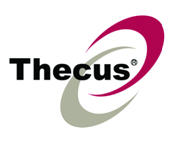 01/25/2008 – Since the beginning, Thecus has prided itself on showing total commitment to the customer. One of the ways is through frequent firmware and software updates which enhance or extend the functionality of Thecus products. Through constant improvement, Thecus users can enjoy both added performance and features at no extra charge, ensuring that Thecus NAS devices are the best performing, most feature-rich on the market. Today, Thecus is proud to announce that it is adding Stacked NAS and IP Cam functionality to several of its existing NAS models.
Stacked NAS is a great way to expand the capacity of any network storage system. With Stacked NAS, two or more NAS devices can work in tandem while appearing as one single large NAS unit. Up to five Stacked NAS targets can be assigned to a single master device, which means that users can "stack" up to six NAS units together -- how's that for expandability? Best of all, each "slave" unit can be monitored through one single master NAS unit, making administration quick and easy.
With IP Cam functionality, users can set up a simple surveillance system in their home or office quickly and easily. By plugging in a compatible IP Cam, users can have their NAS devices send snapshots periodically to an email account that they specify. Once configured, this system doesn't even require having an active PC running! With IP Cam, keeping an eye on things has never been easier or more convenient.
Stacked NAS and IP Cam will be made available for the following models:
| | |
| --- | --- |
| Stacked NAS | IP Cam |
| N5200 PRO | N5200 PRO |
| 1U4500 | N5200 |
"At Thecus, we believe that a little ingenuity can go a long way," notes Florence Shih, Thecus General Manager. "By providing frequent updates for our loyal users, we can be sure that Thecus users are getting the absolute best value for their hard earned dollar. I encourage everyone to stay tuned as more Thecus innovations are yet to come!"
For more information on Thecus, go to: http://www.thecus.com
---
About Thecus
Thecus® Technology Corp. specializes in IP Storage Server solutions. The company was established in 2004 with the mission to make technology as transparent and easy-to-use as possible, and to make products that are not only the best on the market, but are accessible to experts and novices alike. With a best-in-class R&D team highly experienced in storage hardware and software and with a keen customer focus, Thecus® stays close to the market to develop high-quality products to fulfill the storage needs of today's world.

For sales inquiries, please contact us via email:
sales@thecus.com
For marketing inquiries, please contact us via email:
marketing@thecus.com