For sales inquiries,
please contact us at:


sales@thecus.com
For marketing inquiries, please contact us at:


marketing@thecus.com
2008-01-23
"Without a doubt the most advanced and fastest NAS storage"

01/23/2008 – With three SATA hard disk bays, a bevy of data security options, and robust functionality, Thecus' N3200 brings RAID 5 home. Recently, PC Magazine Netherlands pitted the N3200 against two competing products, and while the competition put up a valiant effort, none could hold a candle to the N3200 which was awarded a 4 out of 5 rating, the highest score in the roundup!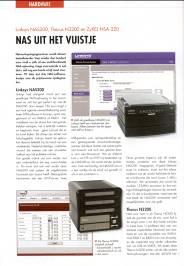 PC Magazine was impressed with the N3200 power saving features, saying that "Thecus even considers the environment and the wallet with the ON/OFF function, a unique function ideal for the target clients and home users." They also said that "read/write is very good" and then said "without any doubt the most advanced and fastest NAS storage with RAID 5 for the power-user with high standards."
Finally, PC Magazine said that "the N3200 is a powerful machine with a lot of advantages."
For the full review, check out PC Magazine Netherlands.
For more information on the N3200, go to: http://www.thecus.com/products_over.php?cid=11&pid=48
For more information on Thecus, go to: http://www.thecus.com
---
About Thecus

Thecus® Technology Corp. specializes in IP Storage Server solutions. The company was established in 2004 with the mission to make technology as transparent and easy-to-use as possible, and to make products that are not only the best on the market, but are accessible to experts and novices alike. With a best-in-class R&D team highly experienced in storage hardware and software and with a keen customer focus, Thecus® stays close to the market to develop high-quality products to fulfill the storage needs of today's world.
For more information, please visit the Thecus® website at:
http://www.thecus.com
For sales and other inquiries, please contact us via email:
sales@thecus.com