For sales inquiries,
please contact us at:


sales@thecus.com
For marketing inquiries, please contact us at:


marketing@thecus.com
2012-05-24
Ground-breaking hardware and software for storage servers
24/05/2012- The annual event is approaching, computer gurus, enthusiasts and novices all alike prepare anxiously to cover the grounds of Computex 2012. Attendees seek for the most innovative technology available and exhibitors are kept on their toes to present eye-catching IT hardware and software. The time has come Computex 2012 is set for June 5th – 9th at Nangang Exhibition Hall, Taiwan. Visit Thecus® at booth K0510 as new hardware and software will be presented to the public.
Thecus® proudly exhibits:
ThecusOS 5.0

McAfee Antivirus

TopTower Series

Microsoft Windows Storage Servers: W Series

V Series (Microsoft Windows 2008R2 Certified)

Home & Small Office: Vision & EVO Series

Thecus® NVR, Visoguard®
ThecusOS 5.0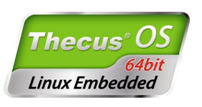 ThecusOS 5.0 offers system monitoring, which provides live feedback on errors, maintenance issues and activity. Monitoring can be configured to display useful information: temperature, network activity, and CPU load.
Link aggregation is already a very popular and powerful feature available on Thecus® NAS. With new interface tweaks, it's now easier to check on network bonding status. In addition, IPv6 support is added; all details will be available in the new network adapter's settings menu.
Data Burn is a handy feature, simply plug a DVD drive to a USB port on the NAS and start transferring data at high-speed. It's also convenient the other way around: burn music, video, pictures, documents directly from the NAS to the DVD with data burn!
Highlights of ThecusOS 5.0 include: volume expansion management, daisy chain volume expansion, system redundancy (High Availability) and data backup (Data Burn). ThecusOS 5.0 includes features to foster a better performing and efficient storage server.
McAfee Antivirus

Thecus® and McAfee teams up to provide adequate protection to NAS devices. Thecus® is the first to bundle McAfee antivirus software within a NAS to provide customers a trouble-free NAS experience.
"The Thecus® approach is to facilitate the most advanced NAS available, while moving forward with the best antivirus software. Our alliance with McAfee enables us to close in and meet our goal, and ultimately deliver the most dependable NAS to the community," said Florence Shih, Thecus® General Manger.
TopTower Series
Thecus® will display the new TopTower NAS; users now have the option to have rackmount quality in a tower structure. TopTower servers compose of N6850, N8850, and N10850 (6, 8, and 10-bay) for any storage requirements. Powered by a range of processers from Intel® Pentium®, Intel® Core™ i3, and Intel® Xeon®, this NAS series is innovative, has the power and capacity for enterprise to home users alike.
Some benefits of TopTower Series includes HDMI output for local display or playing media, 10GbE Ready Fiber/10GBASE-T for faster transfer rates, and benefits from McAfee® Antivirus to keep sensitive data secure.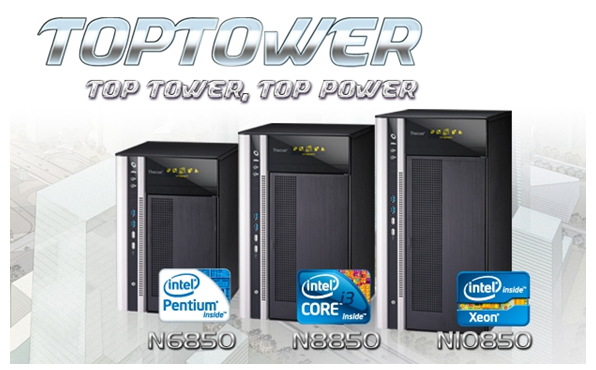 Microsoft Windows Storage Servers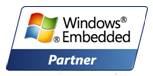 Explore the reliable and powerful Thecus® NAS appliance powered by Windows Storage Server 2008 R2. The W8900, W12000, and W16000 (8, 12, and 16-bay) NAS are available in Windows platform. This appliance offers new tools to manage and fulfill business needs. It provides a network platform that allows users to access computers that are running Windows Storage Server 2008 R2. The approach is to offer users a different platform, offering a cost effective, powerful and scalable solution.
V Series
The V Series offers users to opt for a version that provides the same functions as the normal models with value in mind. Paired with an economic CPU and RAM quantity, Thecus® offers a flexible NAS at an economic price. V Series combine the newest line of powerful Intel® processors and Thecus® potent software to provide a solution that can accommodate a broad spectrum of business, personal storage, and computing needs while staying within budget.
The three V Series NAS include 8, 12 and 16-bay appliances. They are the well-balanced N8900V to the powerful and HA-capable N12000V/N16000V.
Vision Series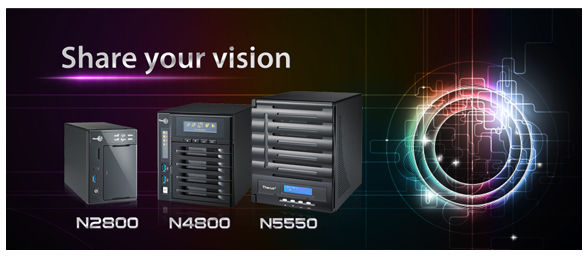 Thecus® is proud to present the N4800 and N2800 Vision Series NAS, embedded with Intel® Atom™ CPU, USB 3.0, dual gigabit ports, SD card reader (N2800), Mini-UPS (N4800) and more.
Thecus® N5550 5-bay NAS is the updated version of the well-known N5500. The powerful 5-bay fits perfectly into the Vision Series line as users are offered a wide range of storage sizes. Inside sits the latest Intel® Atom™ CPU, the most powerful processor in its category.
A key feature for the Vision Series is the HDMI output that allows local display. It's now possible to connect the NAS directly to a monitor and control it through USB mouse/keyboard. Thanks to this feature, Thecus® is now creating a new standard among the NAS industry.
EVO Series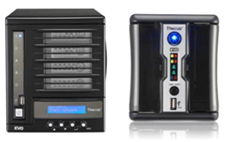 The N4100EVO and N2200EVO models utilize an energy saving dual-core Cavium CPU, which is powerful to handle large backups, web hosting, photo serving, multiple users, and even streaming HD video.
The EVO Series NAS comes with endless modules that users can select via Thecus® website. Some include, media streaming (Free TwonkyMedia™ license), data backup (Free Acronis® True Image™ OEM), RAID protection, files sharing (AFP, SMB, NFS). Designed with Thecus® high-quality standards, those NAS will maximize your return on investment.
Thecus® NVR Visoguard®

Along with NAS appliances, Thecus® will also display the NVR Visoguard® line. Truly all-in-one, every VisoGuard® appliance is not just a Network Video Recorder (NVR), but also a real-time monitoring system and a Network Attached Storage unit. Thecus® VisoGuard® NVR employs the powerful iCAT video analytics software developed by NETAVIS Software. Choose motion detection, people counting, theft detection, and many more conditions and Thecus® VisoGuard® will analyze live video and organize it to be easily managed and searchable.
Thecus® welcomes all to visit Computex 2012 booth K0510 from June 5th – 9th at Nangang Exhibition Hall, Taiwan; for NAS demos, discussions with Thecus® exports and friendly interactions.
---
About Thecus®
Established in 2004, Thecus Technology Corp provides market leading network attached storage and network video recorder solutions, committed to revolutionize how everyone from home user to enterprise level business centrally stores, manages and accesses their digital data both onsite and cloud-based. Thecus strives to deliver continuous innovation through cutting edge technology and design to provide data storage with the most customer-friendly platform, rapid performance and robust security. In May 2016, Thecus was formally acquired by Ennoconn Corporation and thus became part of the Foxconn IPC Technology group. Partnered together this diverse group of companies work in tandem to provide a total IoT (Internet of Things) solution. Now with an unparalleled portfolio to work with, Thecus is collaborating to bring unprecedented change to the network storage industry.