For sales inquiries,
please contact us at:


sales@thecus.com
For marketing inquiries, please contact us at:


marketing@thecus.com
2012-05-23
Virtualization offers vast flexibility and convenience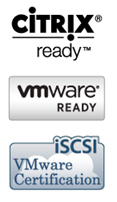 05/23/2012-A virtual realm has become a useful agent in large enterprise companies and individual user line of work. As it allows company savings and flexibly, but what exactly does it mean? Virtualization in simple terms is the conception of a virtual version of an actual physical unit. Operation systems, severs, and storage devices all can be virtualized. In order to conduct a virtualized infrastructure, there must be a dedicated host, and then guests can be established. A hypervisor program is used to manage the host's equipment and allocates it to individual virtual guest machines. As a result, creating an abstract medium allows users to access and manage files without causing negative effects or harm to the core system. Ultimately, Thecus® is Citrix, VMware and Windows certified to foster system virtualization.
Some of the advantages of virtualization include:
Eliminate drawbacks in the system
Access data on-the-go (mobile mobility)
Unify NAS servers
A NAS structure is only as powerful and reliable as each factor allows. Meaning, if a system utilizes hi-end appliances but internet connection is not on par, the internet connection is the drawback within the system. In a virtualized infrastructure, users won't need to worry about possible handicaps. Since the system is virtualized, overall performance is equal to the host system and controlled via virtualization appliance; thus provides a more stable and reliable infrastructure.
In this era, often times users require the ability to reach vital data on the road instantly. However, accessing NAS data on-the-go can pose serious threats; if an error occurs, it may cause a domino effect and hinder the system. However, in a virtualized infrastructure, users can conduct flawless file transfers over virtualization, as human or system errors won't have direct effect on the host server.
Centralizing NAS systems is a major benefit for big IT companies as it allows the decline of physical resources. This allows companies to consolidate their NAS appliances in a single virtualized environment. As a result, users can access and manage their data in the virtual pool instead of accessing different NAS units.
Application virtualization offers many benefits to IT companies and end users alike. An application is distributed virtually to guests by the host. This result to fewer resources, protect OS and application from bugs and failures, and ability to run an application in an unfamiliar environments such as Windows application on Linux. In short, a virtualization layer on the application redirects file operations to a virtualized location for guests to utilize.
Another key factor for running a NAS in a virtualized environment is the ability to transfer one NAS appliance to another. If a specific NAS requires maintenance for any reason, virtual servers have the ability to transfer in real time. Thus reduces any downtime which can cause hazard for large IT offices that depends on the liability of their NAS units.
Above are a few benefits of a virtualization infrastructure that individual users and IT administrators can adopt to make their data management more convenient and flexible. In all, NAS virtualization allows consolidation, simplification, efficacy, and energy conservation.
---
About Thecus®
Established in 2004, Thecus Technology Corp provides market leading network attached storage and network video recorder solutions, committed to revolutionize how everyone from home user to enterprise level business centrally stores, manages and accesses their digital data both onsite and cloud-based. Thecus strives to deliver continuous innovation through cutting edge technology and design to provide data storage with the most customer-friendly platform, rapid performance and robust security. In May 2016, Thecus was formally acquired by Ennoconn Corporation and thus became part of the Foxconn IPC Technology group. Partnered together this diverse group of companies work in tandem to provide a total IoT (Internet of Things) solution. Now with an unparalleled portfolio to work with, Thecus is collaborating to bring unprecedented change to the network storage industry.