For sales inquiries,
please contact us at:


sales@thecus.com
For marketing inquiries, please contact us at:


marketing@thecus.com
2007-12-17
N3200 and N4100+ are holiday wishes come true for Home/SOHO users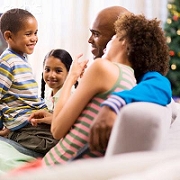 12/17/2007 – With the holiday season is just around the corner, what's the perfect gift for the technology lover or SOHO user? If keeping digital data secure is a concern, there's no better way to put a smile on a Home/SOHO user's face than the N3200 and N4100+ from Thecus, this season's most wanted Christmas gifts. Featuring massive storage capacity, advanced data security features, and total ease-of-use, the N3200 and N4100+ are ideal gifts to put under the gadget lover's tree this holiday season.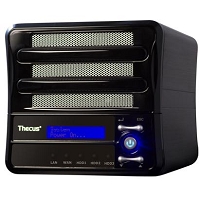 Small yet powerful, the N3200 comes with some of Thecus' most advanced features. Headlining is its three SATA drive bays, which not only give the N3200 up to 3TB of storage capacity, but also gives users the option of RAID 5. With RAID 5, home users can enjoy the speed of a striped array with the security of complete data redundancy, ensuring that their precious memories will stand the rest of time. The N3200 has also been designed for total ease-of-use. With a completely tool-less design, installing and removing disks is a snap, which means that users can spend more time enjoying their digital media and less time setting things up. A handy LCD display informs users of system status, and enables easy system management in dimly-lit environments.
If even more storage is required, users can opt for the four-bay N4100+. The N4100+ is powered by a 600MHz Intel® 80219 CPU for exceptional data-processing capabilities. Its four hard drive bays accommodate four 3.5" SATA hard disks for up to 4TB of storage. RAID modes including RAID 0, 1, 5, and JBOD allows N4100+ users to select the level of data protection they want while optimizing performance. RAID management features such as auto rebuild, hot swap, and hot spare ensure minimal downtime, while two Gigabit Ethernet ports ensure that users can get at their data quickly.
For more information on the N3200, check out:
http://www.thecus.com/products_over.php?cid=11&pid=48
For more information on the N4100+, check out:
http://www.thecus.com/products_over.php?cid=11&pid=28
For more information on Thecus, go to:
---
About Thecus
Thecus® Technology Corp. specializes in IP Storage Server solutions, including Network Attached Storage (NAS) and Wireless Media Bank products. The company was established in 2003 with the mission to make technology as transparent and easy-to-use as possible, and to make products that are not only the best on the market, but are accessible to experts and novices alike. With a best-in-class R&D team highly experienced in storage hardware and software and with a keen customer focus, Thecus® stays close to the market to develop high-quality products to fulfill the storage needs of today's world.
For more information, please visit the Thecus® website at: http://www.thecus.com
For sales and other inquiries, please contact us via email: sales@thecus.com