For sales inquiries,
please contact us at:


sales@thecus.com
For marketing inquiries, please contact us at:


marketing@thecus.com
2007-12-12
"A perfect storage solution for end users and SOHO users"

12/12/2007 – For home and SOHO users looking for an easy-to-use NAS solution that's both feature-rich and affordable, its hard to go wrong with the two-bay N299 from Thecus. With space for 2 hard drives, RAID, and a wide selection of media features, the N299 is a tremendous value. Al-Digital Austria recently reviewed the N299 and found that it is a perfect storage solution for both end users and SOHO users.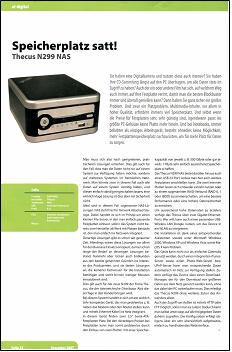 Al-Digital was pleasantly surprised how easy the N299 is to set up: "If you are using a digital camera, or you want transfer your music CD collection to your PC, with access to your data every time! Perfect for such case is a so called NAS (Network Attached Storage) Solution. The Thecus N299 is a handsome and compact device. With 2 Gigabit LAN Ports, the connection to the Network is very easy. Just use the Setup Wizard from Thecus and you are online with this device within minutes. You don't have to be an expert. This is one of the biggest advantages of this device. For security and redundancy, users can choose a RAID level between 0, 1, and JBOD."
The N299 comes loaded with fantastic features: "A lot of other useful features are built in the N299 Box, including an iTunes Server, Photo Web Server, UPnP Server, and Download Manager. If you want to share the content of your Thecus with friends, no problem, With the N299 you have the tools for that. Just open the N299 for FTP or HTTP access, and that's it."
The conclusion: "To summarize, the N299 is a perfect storage solution for end users, even SOHO users."
For the full review, check out the December 2007 issue of AL-Digital Magazine.
For more information on the Thecus N299, check out: http://www.thecus.com/products_over.php?cid=10&pid=52
For more information on Thecus, go to: http://www.thecus.com
---
About Thecus
Thecus® Technology Corp. specializes in IP Storage Server solutions, including Network Attached Storage (NAS) and Wireless Media Bank products. The company was established in 2003 with the mission to make technology as transparent and easy-to-use as possible, and to make products that are not only the best on the market, but are accessible to experts and novices alike. With a best-in-class R&D team highly experienced in storage hardware and software and with a keen customer focus, Thecus® stays close to the market to develop high-quality products to fulfill the storage needs of today's world.
For more information, please visit the Thecus® website at: http://www.thecus.com
For sales and other inquiries, please contact us via email: sales@thecus.com