For sales inquiries,
please contact us at:


sales@thecus.com
For marketing inquiries, please contact us at:


marketing@thecus.com
2007-12-10
Five-bay NAS powerhouses take top honors in 19-NAS roundup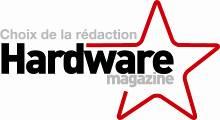 12/10/2007 – Recently, Hardware Magazine decided to do the unthinkable: pull together a whopping nineteen NAS servers and compare them in a full-blown roundup. While many representatives from the NAS market came to the party, Thecus' N5200 and N5200PRO walked away with top honors, earning Hardware Magazine's coveted Editor's Choice Award, besting all other competitors in the five-bay category!
The N5200 and N5200 PRO came away victorious: "The N5200 of Thecus is a five-bay SATA NAS comes in different versions. The N5200 comes with a 600 MHz processor and 256 MB memory, the N5200 with a 1.5 GHz processor and 512MB memory. The N5200B and N5200B Pro have 2 Gigabit LAN ports and the N5200BR and N5200BR Pro have a built-in Gigabit switch…The Pro version comes with some extra functions like Wake-on-LAN, multiple RAID arrays, scheduled Power On/Off, and iSCSI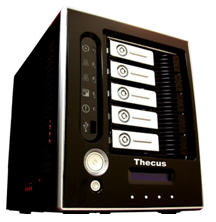 support. The performance of the N5200 is excellent and surpasses all the competitors of this round-up with more than 44 MB/s writing big files... The N5200s are expensive but they are the only ones able to really compete with our PC performance. Pros: 4 USB ports / HDD management / Very high data transfer rates."
To read the full review, check out the December 2007 issue of Hardware Magazine.
For more information on the Thecus N5200PRO, check out:
http://www.thecus.com/products_over.php?cid=1&pid=32
For more information on Thecus, go to: http://www.thecus.com
---
About Thecus
Thecus® Technology Corp. specializes in IP Storage Server solutions, including Network Attached Storage (NAS) and Wireless Media Bank products. The company was established in 2003 with the mission to make technology as transparent and easy-to-use as possible, and to make products that are not only the best on the market, but are accessible to experts and novices alike. With a best-in-class R&D team highly experienced in storage hardware and software and with a keen customer focus, Thecus® stays close to the market to develop high-quality products to fulfill the storage needs of today's world.
For more information, please visit the Thecus® website at: http://www.thecus.com
For sales and other inquiries, please contact us via email: sales@thecus.com