For sales inquiries,
please contact us at:


sales@thecus.com
For marketing inquiries, please contact us at:


marketing@thecus.com
2007-12-05
"I tried out UPnP on a PlayStation 3 and it works a treat"

12/05/2007 – The N299 is one of the best deals in NAS devices today. One of the users on XPMediaCenter.com.au got a hold of one, and was very impressed with both its functionality and ease-of-use.
Installing the N299 hardware couldn't be simpler: "The N299 is shipped in a nice package…You will need to install disks in the N299. Installing the disks is easy and will take about as long as it takes to screw in a dozen of so Philips screws...The basic set-up of the N299 is easy. About all that you will need to do is to update the firmware from the installation CD. The file server will then be visible on your network. The quick guide will get you this far, and for some people, this is about all they will ever want to do with the device."
The N299 is great for the media buffs: "The N299 can act as an UPnP AV (Universal Plug and Play) server. This may appeal to media centre folks. It means that you can stream media to an UPnP client such as a Sony PlayStation 3, or Nero Home software running on a PC. I tried out UPnP on a PlayStation 3 and it works a treat…For iPod families, there is an iTunes server. Rather than the family storing their iTunes compatible media on individual PCs, the media can instead be stored on the N299. From iTunes you simply check the "Look for shared libraries" under preferences and the N299 will appear on the left panel under the heading "Shared". A password is needed to gain access - nice."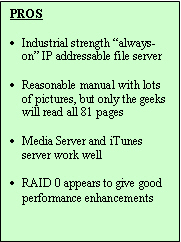 The conclusion: "In summary, the N299 is an industrial strength file server muscling-in on the "domestic" USB/FireWire file server space. Some of the N299's features will be redundant in the home environment, but don't let this put you off. There are some useful features on the N299, such as the UPnP Media Server, that will be used by many. Given a choice between a USB/FireWire file server or an equivalent capacity N299, the slightly dearer N299 is by far the better buy in my opinion...A neat device indeed."
For the full review, check out:
http://www.xpmediacentre.com.au/techreviews/?p=175#more-175
For more information on the Thecus N299, check out:
http://www.thecus.com/products_over.php?cid=10&pid=52
For more information on Thecus, go to:
http://www.thecus.com
---
About Thecus

Thecus® Technology Corp. specializes in IP Storage Server solutions, including Network Attached Storage (NAS) and Wireless Media Bank products. The company was established in 2003 with the mission to make technology as transparent and easy-to-use as possible, and to make products that are not only the best on the market, but are accessible to experts and novices alike. With a best-in-class R&D team highly experienced in storage hardware and software and with a keen customer focus, Thecus® stays close to the market to develop high-quality products to fulfill the storage needs of today's world.
For more information, please visit the Thecus® website at:
http://www.thecus.com
For sales and other inquiries, please contact us via email:
sales@thecus.com