For sales inquiries,
please contact us at:


sales@thecus.com
For marketing inquiries, please contact us at:


marketing@thecus.com
2012-04-05
"As mid-end SMB unit, we believe the N4200Eco will provide us the best "bang for the buck."
04/05/2012 - After experiencing problems with their file server, rubber hose manufacturer Tsu Tah Elastomerics adopted quiet and energy saving Thecus® N4200Eco. Read this case study to find out why N4200Eco is great for SMB environment.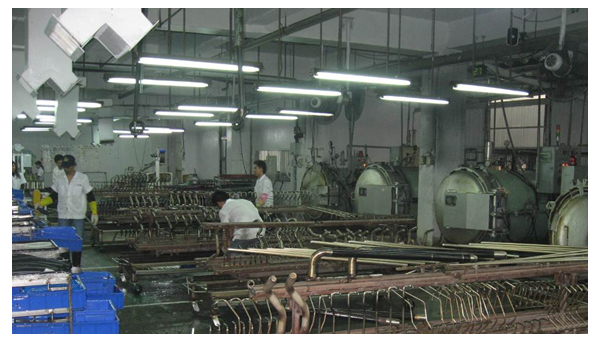 Storage solution before N4200Eco
Our company is a Taiwanese manufacturer of rubber hoses mainly used in automobiles, motorcycles, ATVs and boats. Since 2006, we have been using a HP server running Windows 2003 Storage Server with RAID array of 12 hard drives with two terabyte of space to manage all of our electronic files. This file server holds hundreds of thousands of spreadsheet and presentations files, thousands of 2D and 3D drawings, and also huge backup files from our ERP system. For the most part, it has been more than sufficient to serves our company's needs. However, this file server does have its downside. It is a monster at generating lots of noise and even more heat. Not to mention the electricity the server sucks up and the electricity needed to run it's air conditioning 24/7. Due to our small size, we cannot afford to hire a full time IT technician to manage our computers and servers. We have also known that if something were to happen to this server, we would be in huge trouble.
Problems started
To our nightmare, we recently started to experience problems with our file server. From time to time, users would complain that they are not able to connect from their computers. After much searching on the Internet, we found out that the problem seems to be the server is running out of pooled memory. It seems the technical know-now to resolve the issue is much more technical than what our people are capable of accomplishing. Since the server is a bit old, bringing in outside help to save an old machine just didn't seem very cost effective. A couple weeks after the problem started, the server became inaccessible for most of the time. With complaints increasing and work efficiency decreasing, we needed to resolve the problem as soon as possible. Management decided to see if we could bring in a newer and more "green" solution to improve our situation.
Thecus N4200Eco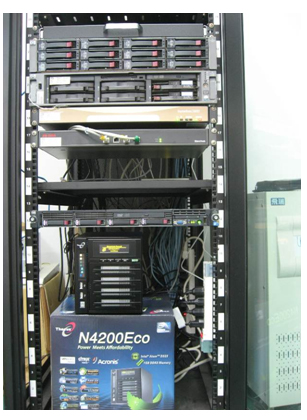 Through some investigating, it seems a Network-Attached Storage (NAS) seems the perfect solution for us. Most NAS on the market are small in footprint, easy to manage and very energy saving. After researching different makes and models, we decided upon Thecus's N4200Eco. With 4 hard drive bays, we could start out by installing two 2 terabyte hard drives in a RAID 1 environment to replace our current file server, while still have plenty of room for expansion. N4200Eco runs on a Intel Atom D525 1.80 GHz processor with 1 GB of DDR3 memory providing plenty of processing power to move multiple large files concurrently. As mid-end SMB unit, we believe the N4200Eco will provide us the best "bang for the buck."
When the unit arrived, we were more than happy to see that the box didn't come with complicated manuals or too many lose parts. Installing the hard drives into the N4200Eco was plain and simple. We just had to screw the hard drives on to the hard drive racks and insert them into the hard drive bays and the unit is ready to go. Following the instructions on the quick installation guide that came with the unit, the unit was running and ready for RAID setup within minutes. After setting up our RAID 1, our N4200Eco showed up on our network and was ready to be put to work. N4200Eco's GUI is very simple and clear so setting up share folders and access control was a breeze. It only took a few minutes to set up our main share folders and create the appropriate groups and users. Transferring all our files to the N4200Eco was fast and stable. It was a great confidence booster after we transferred 1 terabyte of data on to the N4200Eco and it didn't show any signs of slowing down.
The N4200Eco has some key features that we felt were very important to us. To us, folder access control is the most important feature. Being a rubber manufacturer, we have secret rubber formulas that is only viewable for the selected few. N4200Eco's access control is very easy to set up. We were able to easily restrict access to the protected subfolder and only allow a few personnel access to the restricted files. At the same time, we were able to set certain folders to be completely restriction free.
We also love the ability to schedule the N4200Eco to turn on and off at appointed times. This was something we weren't able to do on our original HP file server. This option will definitely help us save on electricity bill going forward. Not only does the N4200Eco use less electricity than our original file server, we now can turn it and the air conditioning unit off during none office hours, which will help save even more electricity.
A pleasant surprise that came with using the N4200Eco is that we don't have to worry as much about virus. Because N4200Eco is a Linux based unit, most Windows based virus will not be active on the N4200Eco. This gives us a great peace of mind to know that while our files are on the N4200Eco, we don't need to worry attacks from virus. This is definitely a big plus because we had gone through a virus plagued period where our computers and servers were hit by various viruses. We did our best to clean all of the virus that we can find but our old file server would still find them from time to time. At least we now know, we don't have worry about virus infesting our NAS ever again..
Over all our whole company is more than satisfied with the performance and stability of the N4200Eco. Not only is it easy to use and to maintain, it will save us quite a good amount of money in the future from the electricity we are saving.
---
About Thecus®
Established in 2004, Thecus Technology Corp provides market leading network attached storage and network video recorder solutions, committed to revolutionize how everyone from home user to enterprise level business centrally stores, manages and accesses their digital data both onsite and cloud-based. Thecus strives to deliver continuous innovation through cutting edge technology and design to provide data storage with the most customer-friendly platform, rapid performance and robust security. In May 2016, Thecus was formally acquired by Ennoconn Corporation and thus became part of the Foxconn IPC Technology group. Partnered together this diverse group of companies work in tandem to provide a total IoT (Internet of Things) solution. Now with an unparalleled portfolio to work with, Thecus is collaborating to bring unprecedented change to the network storage industry.