For sales inquiries,
please contact us at:


sales@thecus.com
For marketing inquiries, please contact us at:


marketing@thecus.com
2007-12-03
"Performance and plenty of storage space for the price"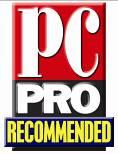 12/03/2007 – For businesses, data is a most critical asset. They not only need quick access to it, but also need to make sure that it is secure. To address this, Thecus has created the 1U4500 Rackmount NAS device. With four SATA hard disk bays and host of storage and security options, the 1U4500 is a perfect storage solution for business looking for cost-effective yet high-performance rackmount storage device. Recently, PC Pro tested the 1U4500 in its labs, and were impressed with both its strong performance and cost-benefit ratio, giving it a 4-star overall rating!
Editors begin by describing the 1U4500: "Thecus has been sitting pretty for some time on the PC Pro A List, as we've yet to find anything that can compete with its N5200 RouStor in terms of features, performance and value. It now turns its eye on the business storage market, as the 1U4500R aims to take all the best bits from its desktop boxes and present them in a slimline 1U rack server."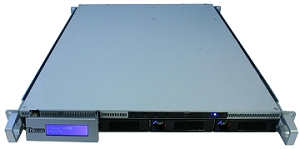 For businesses, data security is vital: "RAID arrays are easy to create, and you get an option to migrate mirrored and striped arrays to RAID5. Client support extends to Windows, Linux, Unix and Mac systems, and FTP services are available, too."
Performance was strong as well: "Performance over Gigabit Ethernet is good, with the Iometer utility reporting a 52MB/sec raw read throughput - identical to the N5200. Copying a 691MB video file to the appliance also delivered fast real-world read and write speeds of 28MB/sec."
The verdict? "…it delivers a good hardware package offering reasonable performance and plenty of storage for the price."
For the full review, check out: http://www.pcpro.co.uk/reviews/128942/thecus-1u4500r.html
For more information on the Thecus 1U4500, check out: http://www.thecus.com/products_over.php?cid=12&pid=26
For more information on Thecus, go to: http://www.thecus.com
---
About Thecus

Thecus® Technology Corp. specializes in IP Storage Server solutions. The company was established in 2004 with the mission to make technology as transparent and easy-to-use as possible, and to make products that are not only the best on the market, but are accessible to experts and novices alike. With a best-in-class R&D team highly experienced in storage hardware and software and with a keen customer focus, Thecus® stays close to the market to develop high-quality products to fulfill the storage needs of today's world.
For more information, please visit the Thecus® website at:
http://www.thecus.com
For sales and other inquiries, please contact us via email:
sales@thecus.com