For sales inquiries,
please contact us at:


sales@thecus.com
For marketing inquiries, please contact us at:


marketing@thecus.com
2012-03-29
Thecus® Dropbox presents cloud backup with multi-user access
03/29/2012- The concept of cloud computing is relatively new to some, even though it has been around for some time now. Cloud is significant to users that look for agility and scalability because cloud can be used as a backup solution. Ultimately, the focus is multi-user cloud backup availability, Thecus® is the first to pioneer the innovative function of providing multi-user access to backup data to and from multiple Dropbox accounts.
Cloud backup 101
Cloud backup and recovery is a service that changes the way companies operate, or in other words, many companies now rely on cloud features and backup in order to keep data protected. One benefit of cloud backup is that it allows flexible storage capacities without limits. Users can set up public or private clouds allowing who can or cannot access their data. Furthermore, enterprise-cloud backup solutions exist as well, with a more complex adoption of hybrid cloud backup.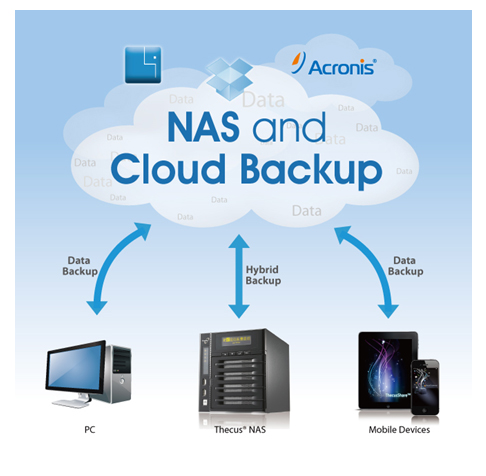 Dropbox

The first cloud backup host server we will discuss is Dropbox, this server allows people to store data via cloud. A key feature of Thecus® Dropbox is the ability to allow multi-users to access data to multiple Dropbox accounts. In short, users connected to a local NAS and Dropbox account can create individual folders within the cloud. Without this feature, it means one user access for one Dropbox account. This tactic for storage backup is extremely innovative as it allows micro security for multi-users within the same network. In simple terms, one user may not want another user on the network to access their data, so a password could be set for a specific folder. With multiple users as a focal point, on-the-go storage gurus will easily have access to their vital data within their reach; ways of storing data with extra security are becoming even more convenient.
ElephantDrive cloud backup solution
Another popular cloud backup server is ElephantDrive, this server is dedicated to serving personal or business users. With this module installed, the selected data on the NAS will be protected with real time synchronization to the cloud. ElephantDrive is compatible for Thecus® users as well. Experience the next-generation backup solution.
Acronis cloud backup

The third cloud server is Acronis, large enterprise and individual storage users alike can benefit from Acronis backup solutions. It's clear that disasters are never planned and data is so important that it cannot be sacrificed; Thecus® paired with Acronis cloud backup is the answer to prevent data loss. Similar to other cloud storage servers, free and paid services are available depending on user objectives.
The bottom line
It's clear that multi-user cloud computing is the future of storage needs. As technology keeps improving, more and more companies will head towards cloud storage and backup. It provides convenience as it blends razor sharp speeds and access to data anywhere there is internet connection. Thecus® Dropbox multi-user feature allows various users to access essential data fast. Cloud computing is high-tech, offering next-generation features that allow enterprise and individual users alike to save storage costs with bleeding edge performance.
For more information on ElephantDrive, go to:
http://www.thecus.com/media_news_page.php?NEWS_ID=4310
For more information on Dropbox, go to:
http://www.thecus.com/media_news_page.php?NEWS_ID=4101
For more information on Acronis, go to:
http://www.thecus.com/media_news_page.php?NEWS_ID=4102
---
About Thecus®
Established in 2004, Thecus Technology Corp provides market leading network attached storage and network video recorder solutions, committed to revolutionize how everyone from home user to enterprise level business centrally stores, manages and accesses their digital data both onsite and cloud-based. Thecus strives to deliver continuous innovation through cutting edge technology and design to provide data storage with the most customer-friendly platform, rapid performance and robust security. In May 2016, Thecus was formally acquired by Ennoconn Corporation and thus became part of the Foxconn IPC Technology group. Partnered together this diverse group of companies work in tandem to provide a total IoT (Internet of Things) solution. Now with an unparalleled portfolio to work with, Thecus is collaborating to bring unprecedented change to the network storage industry.