For sales inquiries,
please contact us at:


sales@thecus.com
For marketing inquiries, please contact us at:


marketing@thecus.com
2007-11-19
Class-leading 5 bay NAS snags 90% overall rating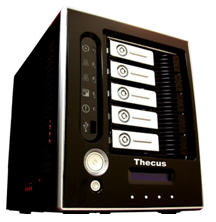 11/19/2007 – Part of what makes a great NAS device is the ability for it to grow along with your needs. With 5 bays and eSATA capability, the N5200PRO from Thecus has expandability in spades. Putting the N5200PRO to the test this time was the folks at TweakTown, who after a batch of testing, found that the N5200PRO is indeed a class-leading NAS device. In the end, TweakTown saw it fitting to bestow the N5200PRO with their Best Performance Award and an overall rating of 90%!
Kicking things off is a little introduction to Thecus and world of NAS: "Thecus has made quite a name for itself when it comes to entry to mid-range NAS devices, it's become something of a household name all over the world in this fairly new and growing market. A NAS or Network Attached Storage device is something that's very common in one way or another for businesses to use, although some might use a file server instead. However, the home and SOHO market has really taken to NAS appliances as an affordable backup and storage solution."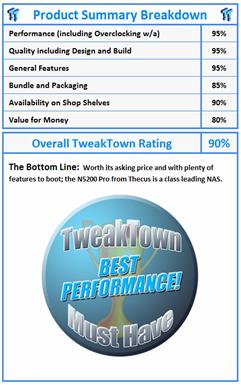 The expandability of the N5200 PRO makes it a great investment: "Investing in a NAS is a long term investment, but with the ability to start with a pair of drives and expand this into a total of five or even six if you use the eSATA interface makes the N5200 Pro a good investment. The option to add extra storage space over time is also great as you can expand it as your backup and storage needs grow."
Here's the conclusion: "All in all, the Thecus N5200 Pro is a class leading product in a very competitive market and it's not hard to see why Thecus has such a good reputation in the NAS storage market..."
To read the full review, check out:
http://www.tweaktown.com/reviews/1219/thecus_n5200_pro_nas_device/index.html
For more information on the Thecus N5200PRO, check out:
http://www.thecus.com/products_over.php?cid=1&pid=32
For more information on Thecus, go to:
---
About Thecus
Thecus® Technology Corp. specializes in IP Storage Server solutions, including Network Attached Storage (NAS) and Wireless Media Bank products. The company was established in 2003 with the mission to make technology as transparent and easy-to-use as possible, and to make products that are not only the best on the market, but are accessible to experts and novices alike. With a best-in-class R&D team highly experienced in storage hardware and software and with a keen customer focus, Thecus® stays close to the market to develop high-quality products to fulfill the storage needs of today's world.
For more information, please visit the Thecus® website at: http://www.thecus.com
For sales and other inquiries, please contact us via email: sales@thecus.com