For sales inquiries,
please contact us at:


sales@thecus.com
For marketing inquiries, please contact us at:


marketing@thecus.com
2007-11-06
"A great bit of home entertainment infrastructure"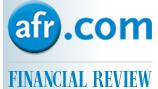 11/06/2007 – Securing digital data is a growing concern for many users. In his Digital Life column, Editor John Davidson of the Australian Financial Review recently tested the all-star N5200 PRO from Thecus, and discovered that it is a more than capable home storage and entertainment server.
The N5200 PRO is very easy to use: "We found logging on to the Thecus to be pleasantly straightforward. The device has a little LCD screen on the front, which tells you what IP address it picked up when you plugged it into your home network. (If only all such devices had these little screens, our life would be a lot easier.) It will be a number like "192.168.2.100", and when you go to another PC on your network and type that number in as the address in a web browser, up pops the Thecus interface. From that web page, you can control all the settings on the device in a fairly straightforward manner."
Did someone say performance? "In our tests with five drives configured to RAID 5, we found the Thecus was much faster than other file servers we've looked at, transferring data from a Mac to the Thecus at a screaming 36 megabytes per second over a gigabit Ethernet connection. Using another type of network connection the Thecus supports, known as an "iSCSI" connection, file transfers were even faster, averaging around 39 MBps, even when we were transferring thousands of tiny files– an act that would often clog up a network-attached file server and slow it to a crawl."
The conclusion: "We did a lot of other tests on the Thecus, too. We won't subject you to those results – they're too tedious even for this article – except to say that the Thecus is a great bit of home entertainment infrastructure which, though expensive, will save you a lot of grief in years to come."
For the full review, check out the October 5-7, 2007 issue of Australian Financial Review.
For more information on the N5200 PRO, go to: http://www.thecus.com/products_over.php?cid=12&pid=32
For more information on Thecus, go to: http://www.thecus.com
---
About Thecus

Thecus® Technology Corp. specializes in IP Storage Server solutions. The company was established in 2004 with the mission to make technology as transparent and easy-to-use as possible, and to make products that are not only the best on the market, but are accessible to experts and novices alike. With a best-in-class R&D team highly experienced in storage hardware and software and with a keen customer focus, Thecus® stays close to the market to develop high-quality products to fulfill the storage needs of today's world.
For more information, please visit the Thecus® website at:
http://www.thecus.com
For sales and other inquiries, please contact us via email:
sales@thecus.com