For sales inquiries,
please contact us at:


sales@thecus.com
For marketing inquiries, please contact us at:


marketing@thecus.com
2007-11-05
"One of the top products on the market"

11/05/2007 – The YES Box N2100, Thecus' two-bay NAS device, continues to receive rave reviews from users around the world who appreciate its speed, flexibility, and user-friendliness. The editors at Zive Computer recently got their hands on the N2100 and were very impressed, especially with its module expansion and superb performance.
Smart design is just one of the YES Box N2100 strong points: "We make an exception and not testing new product but interesting product deserving of your attention. A NAS with 2 disks and 1Gbps Ethernet – it's nothing special, but the N2100 has some interesting tricks up its sleeve."
The YES Box N2100 offers nearly limitless flexibility: "There are plenty of modules at onbeat.dk/thecus. The possibility of modules and performance of this device make it one of the top products on the market. We appreciated the speed and user friendly configuration. Geeks will surly appreciate the opportunity to install a full Linux system."
The conclusion: "A more expensive, but very well equipped NAS. Module expansion and performance make it unique."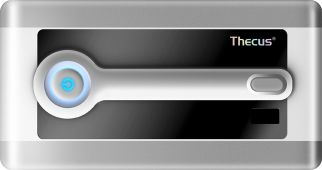 For the full review, go to: http://www.zive.cz/default.aspx?section=21&server=1&article=138381
For more information on the Thecus YES Box N2100, check out:
http://www.thecus.com/products_over.php?cid=1&pid=1
For more information on Thecus, go to: http://www.thecus.com
---
About Thecus

Thecus® Technology Corp. specializes in IP Storage Server solutions, including Network Attached Storage (NAS) and Wireless Media Bank products. The company was established in 2003 with the mission to make technology as transparent and easy-to-use as possible, and to make products that are not only the best on the market, but are accessible to experts and novices alike. With a best-in-class R&D team highly experienced in storage hardware and software and with a keen customer focus, Thecus® stays close to the market to develop high-quality products to fulfill the storage needs of today's world.
For more information, please visit the Thecus® website at:
http://www.thecus.com
For sales and other inquiries, please contact us via email:
sales@thecus.com