For sales inquiries,
please contact us at:


sales@thecus.com
For marketing inquiries, please contact us at:


marketing@thecus.com
2007-10-30
One of the best 5-bay NAS devices available today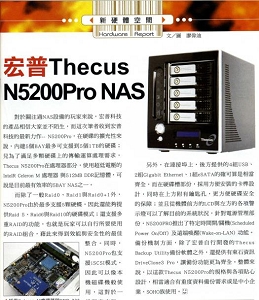 10/30/2007 – Products carrying the Thecus name are very familiar among NAS users, especially the top-of-the-line N5200 PRO. With killer specs and robust features, the N5200 PRO has been receiving rave reviews around the world. Professional computer magazine PCDIY recently took the N5200 PRO for a spin, where editors loved its ease-of-installation and extensive functionality, and whole-heartedly recommended it to SMBs and SOHO users.
Here is PCDIY's introduction: "In terms of hard drive expandability, the N5200 PRO comes with five hard drive bays that support a maximum of five 1-terabyte hard disks. To efficiently manage all of that data, the N5200 PRO comes equipped with an ultra-low voltage Intel Celeron M processor and 512MB of DDR memory, making it the most powerful NAS available."
At the same time, the multiple RAID options and iSCSI support of the N5200 PRO really won over editors: "Besides the typical RAID options such as RAID 0, RAID 1, and RAID 0+1, the N5200 PRO with support for five hard disks, offers RAID 5, RAID 6, and RAID 10. What's more, the N5200 PRO supports multiple RAID modes simultaneously, allowing users to find the right RAID combination for them to maximize security and performance. To access data faster than ever before, the N5200PRO supports iSCSIinitiators, enabling users to access the N5200PRO as an iSCSItarget device over the Internet or LAN."
In addition, the N5200 PRO is fully equipped for data backups: "Besides the included Thecus Backup Utility, it also comes with a copy of FarStone's DriveClone3 Pro for a more complete backup solution."
The conclusion: "Overall, the N5200 PRO's specifications and thoughtful design is perfect for those with serious data backup requirements, SMBs, and SOHO users."
For the full review, check out the October 2007 issue of PCDIY Magazine.
For more information on Thecus, check out: http://www.thecus.com.
---
About Thecus
Thecus® Technology Corp. specializes in IP Storage Server solutions. The company was established in 2004 with the mission to make technology as transparent and easy-to-use as possible, and to make products that are not only the best on the market, but are accessible to experts and novices alike. With a best-in-class R&D team highly experienced in storage hardware and software and with a keen customer focus, Thecus® stays close to the market to develop high-quality products to fulfill the storage needs of today's world.
For more information, please visit the Thecus® website at: http://www.thecus.com
For sales and other inquiries, please contact us via email: sales@thecus.com