For sales inquiries,
please contact us at:


sales@thecus.com
For marketing inquiries, please contact us at:


marketing@thecus.com
2012-02-20
The Storage Experts Unveil Unified Storage and Reinvent the Multimedia Center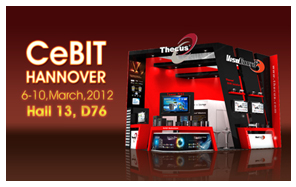 02/20/2012- At CeBIT 2012, Thecus® will once again deliver hardware and software innovations to lead the way in storage. Thecus® is ready to showcase the new lines of network attached storage (NAS) and Network Video Recorders (NVR) applying technology in ways never before seen in this industry. What Thecus® is bringing to the table is no less than a complete reinvention of the wheel, or in this case, the NAS.
"CeBIT 2012 is going to be exciting and bursting with Thecus® strong lineup for both home and business use," said Thecus® General Manager Florence Shih. "More detail and showcase will be disclosed with the announcement of new features and new products in CeBIT Hannover this March."
For Home and SMB Users: the HDMI Era
Vision Series: A True Multimedia Center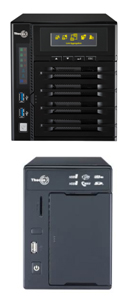 As part of the Intel Embedded Alliance, Thecus® has precedence and access to a multitude of Intel prototypes and the latest technologies. Working on those products for months now, Thecus® is delighted to finally release its Vision Series.
The new N2800 and N4800 are going to be some of the first Intel® Atom™ D2700 based NAS! They will set the standard for what's best in the market to help you build a true multimedia center: USB 3.0, Dual Gigabit Ports, SD Card reader (N2800), Mini-UPS (N4800), etc.
And the most important feature is the HDMI output. With Thecus® Local Display module, it's now possible to connect the NAS directly to a monitor and control it through USB mouse/keyboard. Playing full HD movies, browsing the web, using XBMC, controlling the NAS… everything is now possible directly from your TV! Thanks to this feature, Thecus® is now creating a new standard among the NAS industry.
EVO Series: Intelligence Design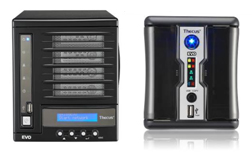 While the Vision series is shining with lots of features and innovations, the EVO series seems to be a bit more discreet. It's been designed for people who just need core Thecus® features and an economical system at a lower cost.
The N4100EVO and N2200EVO are featuring an energy saving dual-core Cavium processor, which is enough to handle large backups, web hosting, photo serving, multiple users, and even streaming HD video. These NAS come with essential functions: media streaming (Free TwonkyMedia™ license), data backup (Free Acronis® True Image™ OEM), RAID protection, files sharing (AFP, SMB, iSCSI, FTP…) etc. Designed with Thecus® high-quality standards, those NAS will maximize your return on investment.
For Enterprise Users: Unified Storage Solutions
TopTower: Powerful Tower NAS for Demanding Environments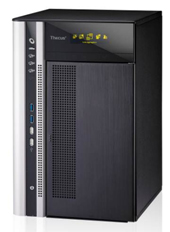 Enterprise users need reliable and consequent unified storage appliances. But not all of them want to invest a server room with racks and cooling systems. To help them, Thecus® created the TopTower line. Three models N6850, N8850, and N10850 (6, 8 and 10 bays) are specifically tailored to be versatile and fulfill today's needs without taking up a substantial amount of space.
The series starts with the N6850. Embedded with Intel® Pentium™ G620 Dual Core @2.6GHz and 2GB of RAM, it is not only ideal for the multi-user environment, but also a premium choice for SMB users looking to centralize their data.
The second NAS in line is the N8850: perfect for demanding businesses that require frequent and simultaneous multi-talking at high speed. It's an 8 bay tower NAS embedded with Intel® 2nd Generation Core™ i3 and 4GB of RAM.
Last but not least, the N10850. It is equipped with a powerful Intel® Xeon™ E3 Quad Core @3.1GHz and 4GB of RAM, which already proved great on the N12000. This is not a dream: its power, originally limited to datacenter servers, is now accessible in a "simple" tower NAS!
V Series: The Anti-crisis Weapon

Thecus® is releasing a new line of Network Attached Storage that takes on a fast-growing part of the market: high-capacity, high-value storage. The value, or "V", line, supplement Thecus®'s existing full lineup of NAS, by giving users a choice between more value and more power. These new NAS combine the newest line of powerful Intel® processors and Thecus® potent software to provide a solution that can accommodate a broad spectrum of business, personal storage, and computing needs while staying within budget.
The three NAS are 8, 12 and 16 bay appliances. They are the well-balanced N8900V to the powerful and HA-capable N12000V/N16000V.
W series: Thecus® Hardware, Windows Servers

The W series has been introduced at the latest Windows® Seminar in Taipei. Integrating Windows® Storage Server® 2008 R2, the three appliances (8, 12 and 16 bay) are here to take over a new market.

The W8900, W12000 and W16000 are based on the hardware specifications of the N8900, N12000V, and N16000V. They can be perfectly integrated to an existing Windows®-based architecture or help you start your Windows-based network. On the top of that, the W series has been designed to provide high quality hardware without crippling your IT budget.
Apart from the W Series, the N8900/N12000/N16000 and their V series counterparts are now Windows® Server® 2008 R2 certified. That's why Thecus® and its high-end family are an ideal complement for Windows® Server. To check Windows® Server Catalog, go to: http://www.windowsservercatalog.com/item.aspx?idItem=fbcf4fc3-4520-0933-68bc-1987f54cf5bc&bCatID=1282
McAfee® Antivirus: Safety Never Sleeps

Thecus® innovative hardware helps prevent failures. But sometimes you have to protect the NAS against itself. Adding an antivirus to the already comprehensive software bundle will provide the necessary software protection by scanning the files on your NAS and defending it against possible threats.
McAfee® is the world's largest dedicated security technology company and shares Thecus®' spirit of dedication and quality. By establishing a strong partnership with them, Thecus® will allow users to benefit from McAfee® powerful software on their NAS entirely for free.
Unified Storage: The FCoE/iSCSI War Ends Now

FCoE and iSCSI both have their respective pros and cons. But once you've started your network with one of them, it's pretty hard and expensive to have a hybrid solution. Being locked into one architecture is never a good solution and will increase total cost of ownership.
That's why Thecus® is very proud to announce its latest advanced enterprise features using 10Gb Ethernet: Unified Storage. You can now plug your NAS to a FCoE and an iSCSI network, and at the same time, use your Thecus® NAS as an IP Storage pool for both of the protocols. This way, your NAS can be compatible with any existing or future architecture and your IT Manager won't have to worry anymore about connectivity issues.
Technological Showcase for Thecus Guests
Furthermore, Thecus® will also present its brand new Xeon-based device and demonstrate the dual-controller hardware platform and 10Gb iSCSI solution. All attendees of CeBIT this year are able to have a hands-on experience at Thecus® booth.
Thecus® VisoGuard®: Mobile Monitoring

Thecus® showed its first NVR brand during Secutech 2011 in Taipei. Since then, Thecus® has been consistent on improving and polishing this powerful software and hardware solution. VisoGuard® is also very easy to install: it takes less than 5 minutes! Truly all-in-one, every VisoGuard® appliance is not just a Network Video Recorder (NVR), but also a real-time monitoring system and a Networked Attached Storage unit.
Embedded NETAVIS software features such as advanced motion analysis, hundreds of compatible cameras, PTZ (pan, tilt, zoom), multi-language interface, API for interconnections, instant replay… you are sure to possess what's the best in the market!
Thecus® VisoGuard® NVR employs the powerful iCAT video analytics software developed by NETAVIS Software. Choose motion detection, people counting, theft detection, and many more conditions and Thecus® VisoGuard® will analyze live video and organize it to be easily managed and searchable.
Scalable, all-in-one, easy to use, cutting-edge technologies… those are some of the advantages of a VisoGuard® solution.
The Unveiling of Thecus PAD™: Stunning & Entertaining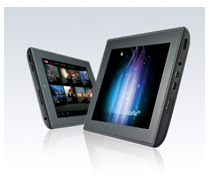 If you possess a Thecus® NAS, then you have already noticed how convenient it is to check multimedia contents on your tablet at home. But what makes it even easier? Using a Thecus® tablet! Thecus® is proud to introduce its first tablet, the Thecus PAD™ during CeBIT 2012. Running on an extra powerful Nvidia Tegra2 T250 on a 1024x600 high definition 7-inche screen, this tablet will satisfy even the most demanding of users. Equipped with a mini-HDMI port and Thecus Utility™, streaming seamless data from your NAS to your TV does not even require an adapter anymore. To learn more, visit our booth during CeBIT!
Meet us @CeBIT 2012, Hall 13, D76 from 6th to 10th March!
---
About Thecus®
Established in 2004, Thecus Technology Corp provides market leading network attached storage and network video recorder solutions, committed to revolutionize how everyone from home user to enterprise level business centrally stores, manages and accesses their digital data both onsite and cloud-based. Thecus strives to deliver continuous innovation through cutting edge technology and design to provide data storage with the most customer-friendly platform, rapid performance and robust security. In May 2016, Thecus was formally acquired by Ennoconn Corporation and thus became part of the Foxconn IPC Technology group. Partnered together this diverse group of companies work in tandem to provide a total IoT (Internet of Things) solution. Now with an unparalleled portfolio to work with, Thecus is collaborating to bring unprecedented change to the network storage industry.