For sales inquiries,
please contact us at:


sales@thecus.com
For marketing inquiries, please contact us at:


marketing@thecus.com
2007-10-05
Highly effective storage server with computer-like features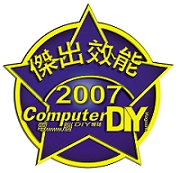 10/05/2007 –
Introduced by network storage expert Thecus
Technology
, the
N5200 PRO
is currently the market's leading 5-bay NAS solution. Professional computer magazine
ComputerDIY
recently focused on this model for review, and editors praised its wealth of features to no end, awarding it with their coveted
Outstanding
Performance Award
!
Here's ComputerDIY's introduction of the N5200 PRO: "Thecus Technology has introduced the not-often-seen 5-bay NAS with the N5200 PRO. It can accommodate five SATAII hard disks, with a maximum individual capacity of 1TB. From that viewpoint, the storage capability of the N5200 PRO is undeniably strong. Other than providing RAID 0 / 1 / 5 / 6 / 10 and JBOD, it can also allow users to configure multiple RAID modes simultaneously according to their individual needs. In addition, the N5200 PRO also offers such useful features auto-rebuild, hot-swapping, and RAID migration and expansion."
The easy setup of the N5200 PRO also received praise from editors: "The biggest advantage of the N5200 PRO is the integrated Linux-based system. For system administrators, it allows ultimate flexibility and functionality with its built-in module support, giving the N5200 PRO an unprecedented feature list."
For hard disk backup, the N5200 PRO offers multiple solutions: "Looking at hard disk backup tools, Thecus has also included FarStone's professional hard disk backup solution – DriveClone 3, as well as the Thecus Backup Utility."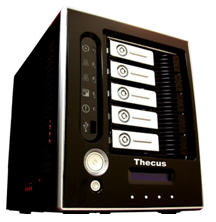 Here's the conclusion from ComputerDIY editors: "With its impressive computer-like features, the N5200 PRO is very well-suited for both enthusiasts and SMBs. Overall, it is an extremely functional and effective NAS system!"
For the full review, check out the October 2007 issue of ComputerDIY Magazine, Week 123.
For more information on the N5200 PRO, go to: http://www.thecus.com/products_over.php?cid=12&pid=32
For more information on Thecus, go to: http://www.thecus.com
---
About Thecus
Thecus® Technology Corp. specializes in IP Storage Server solutions. The company was established in 2004 with the mission to make technology as transparent and easy-to-use as possible, and to make products that are not only the best on the market, but are accessible to experts and novices alike. With a best-in-class R&D team highly experienced in storage hardware and software and with a keen customer focus, Thecus® stays close to the market to develop high-quality products to fulfill the storage needs of today's world.
For more information, please visit the Thecus® website at: http://www.thecus.com
For sales and other inquiries, please contact us via email: sales@thecus.com