For sales inquiries,
please contact us at:


sales@thecus.com
For marketing inquiries, please contact us at:


marketing@thecus.com
2007-10-08
"This is probably the best dual drive box we have tested this round."

10/08/2007 –The idea of network attached storage has been on many users minds as of late. To make sense of it all, PC Magazine Singapore decided to do a round up of some of the more popular NAS units on the market. In the end, the Thecus YES Box N2100 come through with flying colors, as the editors at PC Magazine admired its sleek styling, strong performance, and robust feature set, stating that it was "probably the best dual drive box we have tested this round."
Editors liked the YES Box N2100's sleek appearance and ease-of-use: "This is probably the best dual drive box we have tested this round. Housed in a sleek plastic enclosure, the Yes Box is feature rich and strong in performance. Hardware installation and software setup are very straight forward, and once it's up and running the rest of the administration and data and folder sharing can be done through its web interface...it gets the job done wonderfully."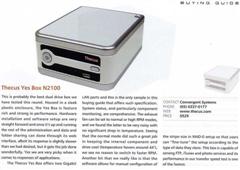 The YES Box N2100 offers both great performance and robust features: "The Thecus Yes Box offers two Gigabit LAN ports and this is the only sample in this buying guide that offers such specification. System status, and particularly component monitoring, are comprehensive...Another bit that we really like is that the software allows for manual configuration of the stripe size in RAID-0 setup so that users can "fine-tune" the setup according to the type of data they store. This box is capable of serving FTP, iTunes and photo services and its performance in our transfer speed test is one of the fastest."
For the full review, check out the September 2007 issue of PC Magazine Singapore.
For more information on the Thecus YES Box N2100, go to:
http://www.thecus.com/products_over.php?cid=11&pid=1
For more information on Thecus, please visit the official website: www.thecus.com
---
About Thecus
Thecus® Technology Corp. specializes in IP Storage Server solutions. The company was established in 2004 with the mission to make technology as transparent and easy-to-use as possible, and to make products that are not only the best on the market, but are accessible to experts and novices alike. With a best-in-class R&D team highly experienced in storage hardware and software and with a keen customer focus, Thecus® stays close to the market to develop high-quality products to fulfill the storage needs of today's world.
For more information, please visit the Thecus® website at: http://www.thecus.com
For sales and other inquiries, please contact us via email: sales@thecus.com