For sales inquiries,
please contact us at:


sales@thecus.com
For marketing inquiries, please contact us at:


marketing@thecus.com
2012-01-10
Pick the chipset that is best for you.
01/10/2012- While deciding on which NAS to buy, people often first consider which CPU will best fit their needs and that's a very good way to get a first idea. Having a 10-bay appliance powered by a single Intel® Atom™ is not the best choice. On the other hand, two connected clients on a 2-bay NAS probably won't need an Intel® Xeon™.
To further define how a NAS can be helpful for you, it might also be useful to check on the chipset of the NAS. But first, you need to know what a chipset is.
A piece of hardware related to the CPU
Using the Wikipedia definition is a good start[1]: "A chipset is usually designed to work with a specific family of microprocessors. Because it controls communications between the processor and external devices, the chipset plays a crucial role in determining system performance".
Two interesting details. First, there are chipsets designed to work with a specific CPU family and chipset acts as the link between the CPU and the rest of the computer. For instance, the chipset Intel® 3450 used in the N16000 won't work with an Intel® Core™ i3 but is optimized for an Intel® Xeon™. Since the chipset is communicating with other devices, it will also need to use the proper "language."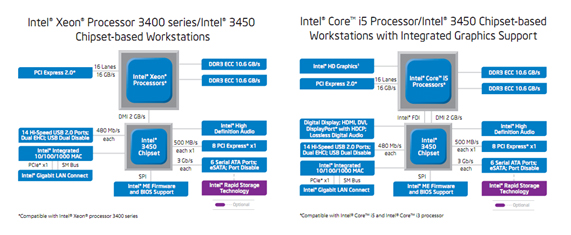 Extract of a Product Brief from Intel
[2]
Technology is ever evolving and the chipsets need to keep up with the pace. Unfortunately, most of the major hardware changes can't be supported by a simple software upgrade. While you'll be limited with older chipsets, new ones are compatible with USB 3.0, HDMI, and new technologies that provide higher transfer speeds.
Adapting the chipset to the NAS
Finding and wiring the proper chipset to the appropriate components (CPU, RAM, USB, eSATA, etc.) can be a tough task and might lead to problems. In the best case, you'll pay for unnecessary functions. In the worst case, the CPU will not be compatible and the NAS won't work. Take, for example, the Intel® Core™ i3-2120, there are no less than 8 compatible chipsets[3]!
But don't worry, dedicated manufactures such as Thecus are there to do this job by keeping a close relationship with CPU makers. By joining the Intel Embedded Alliance, Thecus has a strong partnership with CPU engineers and is able to configure the best chipset for each NAS. At its best, Thecus NAS optimizes component integration within the motherboard, which results in better performance and less power consumption.
The bottom line is: if you don't buy your NAS (or computer) from a trusted source, always be sure to check on the chipset! A bad chipset might deeply impact overall performance, the available functions, and of course, the price.
---
---
About Thecus®
Established in 2004, Thecus Technology Corp provides market leading network attached storage and network video recorder solutions, committed to revolutionize how everyone from home user to enterprise level business centrally stores, manages and accesses their digital data both onsite and cloud-based. Thecus strives to deliver continuous innovation through cutting edge technology and design to provide data storage with the most customer-friendly platform, rapid performance and robust security. In May 2016, Thecus was formally acquired by Ennoconn Corporation and thus became part of the Foxconn IPC Technology group. Partnered together this diverse group of companies work in tandem to provide a total IoT (Internet of Things) solution. Now with an unparalleled portfolio to work with, Thecus is collaborating to bring unprecedented change to the network storage industry.