For sales inquiries,
please contact us at:


sales@thecus.com
For marketing inquiries, please contact us at:


marketing@thecus.com
2012-01-03
Get your NAS back under the protection of HA in a fraction of the time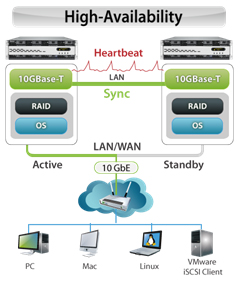 Thecus's HA runs a passive NAS that steps
in when the active NAS goes down.
01/03/2012
- Thecus has been the leader in preventing enterprise Network Attached Storage server downtime by being the only NAS brand that offers High Availability (HA) NAS cloning. In HA, two Thecus NAS are continuously synced over a "Heartbeat" while providing any number of its wide range of services including web hosting, file sharing, central storage, and iSCSI virtualization.
If one NAS experiences issues, the other takes the reins and steps in to continue service without even a blip in service.
Once the downed NAS is repaired, it is resynced with other NAS to bring you back under the umbrella of full HA protection. This means that your website will never be down, your files will always be available, and your service will always be accessible.
Pitfalls of Rebuilding HA
Being available on the Thecus enterprise N12000 and N16000 series, HA deals with volumes as large as 48 terabytes and rebuilding can take as long as a full day, even when syncing over a super fast 10 gigabit Ethernet "Heartbeat". Getting back under HA protection fast is vital for keeping 100% availability and making sure that your employees are informed, your data is online, and your customers are happy.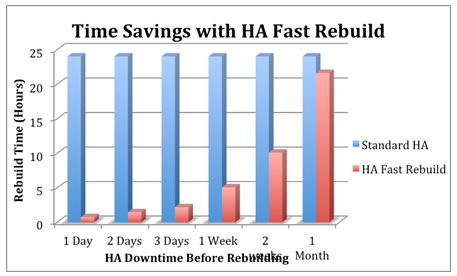 High-speed rebuilding works like incremental backups, getting your NAS
back under HA protection much faster - even up to a month after one server goes down.*
The Solution: HA Fast Rebuilding with Bitmap Recording
Thecus has now introduced new HA functionality that drastically reduces resyncing time and gets you back under HA protection in a fraction of the time. HA can now be rebuilt in just a few short hours. To do this, Thecus has incorporated a new system to keep track of all the actions the active NAS takes in a bitmap file after the other NAS goes down. When it comes back, the active NAS checks the log and only updates the data that the other NAS has missed. This means that only differential data needs to be transferred. It's been shown that most large systems only have a 1-3%** daily change rate on average. Therefore, after a week of one NAS being down, the HA rebuilding process will be at least 6 times faster, and probably much more! This new function goes a long way towards bringing you closer to impenetrable availability.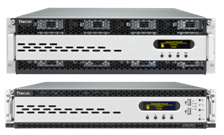 Thecus's N16000 and N12000
NAS series support High Availability
*Note: Assumes a 48TB volume with a total rebuilding time of 24 hours and 3% daily data change rate
** http://www.teradactyl.com/backup-knowledge/backup-definitions/true-incremental.html
For more information on Thecus enterprise NAS, go to:
http://www.thecus.com/product_catalog.php?PROD_TYPE_ID=11
---
About Thecus®
Established in 2004, Thecus Technology Corp provides market leading network attached storage and network video recorder solutions, committed to revolutionize how everyone from home user to enterprise level business centrally stores, manages and accesses their digital data both onsite and cloud-based. Thecus strives to deliver continuous innovation through cutting edge technology and design to provide data storage with the most customer-friendly platform, rapid performance and robust security. In May 2016, Thecus was formally acquired by Ennoconn Corporation and thus became part of the Foxconn IPC Technology group. Partnered together this diverse group of companies work in tandem to provide a total IoT (Internet of Things) solution. Now with an unparalleled portfolio to work with, Thecus is collaborating to bring unprecedented change to the network storage industry.