For sales inquiries,
please contact us at:


sales@thecus.com
For marketing inquiries, please contact us at:


marketing@thecus.com
2007-09-18
RAID 5 security and performance finally comes home
09/18/2007 – The digital age has arrived, and users from around the world are looking for ways to store, share, and secure their movies, videos, photos, and music. The need for digital storage solutions in the home is higher than ever, and with this in mind, Thecus Technology has created its most advanced home NAS device yet – the N3200. Featuring three SATA hard disk bays, an array of friendly features, and stylish design, the N3200 brings the security and performance of RAID 5 to a unit perfect for the home.
Small yet powerful, this 160 x 170 x 215 mm unit comes with some of Thecus' most advanced features. Headlining is its three SATA drive bays, which not only give the N3200 up to 3TB of storage capacity, but also gives users the option of RAID 5. With RAID 5, home users can enjoy the speed of a striped array with the security of complete data redundancy, ensuring that their precious memories will stand the rest of time. The N3200 has also been designed for total ease-of-use. With a completely tool-less design, installing and removing disks is a snap, which means that users can spend more time enjoying their digital media and less time setting things up. A handy LCD display informs users of system status, and enables easy system management in dimly-lit environments. Thecus' web-based management system makes a return to the N3200, allowing users to configure and manage the unit through any browser connected to the network, and with USB wireless dongle compatibility, users can even connect to the N3200 without being tangled up with wires.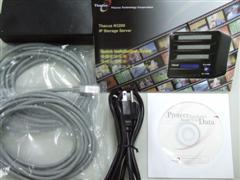 As a NAS for the home, the N3200 also comes with a selection of friendly features that enable the digital lifestyle. A built-in iTunes® Server makes it easy to stream an entire music library over the network, while a Photo Web Server enables users to share and enjoy photos with friends and relatives. A DLNA-compatible Media Server is also included, making the N3200 an ideal device to stream digital content to DLNA-compatible devices. The N3200 can also keep an eye on things at home with its Web Surveillance Server. Just plug in a compatible USB webcam and the N3200 can take scheduled snapshots – all without having a PC turned on!
"Home users are going to love what we've included in the N3200," says Thecus General Manager Florence Shih. "We've taken some of our more advanced features and made them even friendlier with the N3200. I invite users around the world to experience the benefits of RAID5 at home."
For more information on Thecus, go to:
---
About Thecus
Thecus® Technology Corp. specializes in IP Storage Server solutions. The company was established in 2004 with the mission to make technology as transparent and easy-to-use as possible, and to make products that are not only the best on the market, but are accessible to experts and novices alike. With a best-in-class R&D team highly experienced in storage hardware and software and with a keen customer focus, Thecus® stays close to the market to develop high-quality products to fulfill the storage needs of today's world.
For more information, please visit the Thecus® website at: http://www.thecus.com
For sales and other inquiries, please contact us via email: sales@thecus.com