For sales inquiries,
please contact us at:


sales@thecus.com
For marketing inquiries, please contact us at:


marketing@thecus.com
2007-09-05
Small in size, big on features

09/05/2007 – Among the various brands of NAS devices available on the market, the editors of ComputerDIY Magazine recently chose to test the Thecus N1200, and in the end were very impressed by its robust networking features and practicality.
ComputerDIY recommended the N1200 for its functionality, and editors especially liked the fact that the unit, although small, is big on features: "The N1200 is a touch larger than a regular-sized optical drive. Users will love its attractive LED indicators, elegant design typical of consumer electronics, and excellent build quality. Other than its LED indicators, the front panel contains a USB port and one-touch copy button. Plugging a USB storage device and pressing this button will copy all contents to the N1200, which is very convenient. The device has four ports, which allow users to use one machine both a central data storage unit and as a router."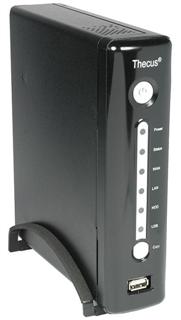 The N1200 is also very easy to use: "Installing the N1200 is very simple. Removing two screws sliding off the top cover, and installing the hard disk takes care of the entire hardware installation. Setup is just as easy, as users just have to hook up the network connection and power, run the setup wizard, and inputting some basic information. With a few clicks of the Next button, setup is complete."
Besides its ease-of-use, users also love the N1200's powerful downloading features: "The N1200 can also schedule downloads by setting up start and stop times, helping you download files during off-peak hours. In addition to this, the N1200 also prevents users from filling up the hard drive unexpectedly by providing hard drive status information. Users can check on the status and free space of the hard drive at any time, making it simple for them to swap or upgrade their drive."
For the full review checkout the September 2007 issue of Computer DIY Magazine, Issue 122.
For more information on Thecus, go to: http://www.thecus.com
---
About Thecus
Thecus® Technology Corp. specializes in IP Storage Server solutions. The company was established in 2004 with the mission to make technology as transparent and easy-to-use as possible, and to make products that are not only the best on the market, but are accessible to experts and novices alike. With a best-in-class R&D team highly experienced in storage hardware and software and with a keen customer focus, Thecus® stays close to the market to develop high-quality products to fulfill the storage needs of today's world.
For more information, please visit the Thecus® website at: http://www.thecus.com
For sales and other inquiries, please contact us via email: sales@thecus.com