For sales inquiries,
please contact us at:


sales@thecus.com
For marketing inquiries, please contact us at:


marketing@thecus.com
2007-08-20
Supports Multiple RAID and Load Balancing

08/20/2007 – Professional PC weekly magazine IThome recently reviewed Thecus Technology's star product – the N5200B PRO. After a running it through a gauntlet of tests, editors highly praised the robust functionality of unit, and awarded it with their highest rating!
Here are some of the highlights from IThome's review. Editors began by talking about its strong file sharing and transfer capabilities: "The biggest advantage of the N5200B PRO is its iSCSI support, so besides the regular file sharing and transfers, it can also make the N5200B PRO's hard disks appear as local disks through iSCSI. "
Besides iSCSI, the N5200B PRO's feature set is incredibly complete: "On the storage side, it supports the not-often-seen hot swap and hot plug functions, and also features load balancing and failover. This NAS has two Gigabit Ethernet ports, and if one should fail, it will automatically default to the working one."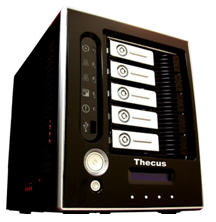 As the Storage Experts, Thecus Technology's expertise goes beyond mere hardware specifications. Thecus products are also designed to secure precious data: "Besides having RAID 0, 1, and 5 seen on other products in its class, it also supports both RAID 6 and a multiple RAID feature. In addition to the data security offered by RAID, it can also use Nsync to automatically backup data onto another Thecus NAS at a designated time. Front-end users can take advantage of the Thecus Backup Utility and FarStone's DriveClone3 Pro backup software."
For the full review, check out IThome Magazine, Issue 308.
For more information on Thecus, go to the official website:
---
About Thecus
Thecus® Technology Corp. specializes in IP Storage Server solutions. The company was established in 2004 with the mission to make technology as transparent and easy-to-use as possible, and to make products that are not only the best on the market, but are accessible to experts and novices alike. With a best-in-class R&D team highly experienced in storage hardware and software and with a keen customer focus, Thecus® stays close to the market to develop high-quality products to fulfill the storage needs of today's world.
For more information, please visit the Thecus® website at: http://www.thecus.com
For sales and other inquiries, please contact us via email: sales@thecus.com