For sales inquiries,
please contact us at:


sales@thecus.com
For marketing inquiries, please contact us at:


marketing@thecus.com
2007-08-20
"An excellent answer to your data sharing, storage, and backup needs"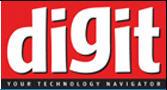 08/20/2007 – With the explosion in popularity of digital mediums, such as music, photos, and movies, users need a device to store, share, and backup their precious files. Recently, the editors of Digit Magazine reviewed the N4100 NAS from Thecus, and discovered that is an ideal device for people looking preserve and enjoy digital media.
Digit begins by introducing the N4100: "The Intel XScale-based N4100 NAS (Network Attached Storage) server by Thecus is an excellent answer to your data sharing, storage, and backup needs. Less than half the size of a regular PC cabinet, the N4100 is sturdily built."
Easy to install and easy on the eyes: "Installing drives is a cinch; thanks to the precision rail mechanism, the drive gets neatly engaged with the SATA connectors inside--no cables involved. The LEDs indicate drive status. Bearing no resemblance to boring file servers, it is, in fact, very presentable, and you wouldn't mind letting it adorn your desktop!"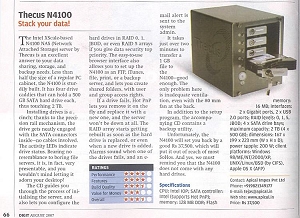 The N4100 is both secure and flexible: "The CD guides you through the process of initializing the server, and also lets you configure the hard drives in RAID 0, 1, JBOD, or even RAID 5 arrays if you give data security top priority. The easy-to-use browser interface also allows you to set up the N4100 as an FTP, iTunes, file, print, or a backup server, and lets you create shared folders, with user and group access rights. If a drive fails, Hot swap lets you remove it on the fly and replace it with a new one, and the server won't be down at all. The RAID array starts getting rebuilt as soon as the hard drive is replaced, or even when a new drive is added."
For the full review, check out the August 2007 issue of Digit Magazine.
For more on the N4100, please go to:
http://www.thecus.com/products_over.php?cid=1&pid=2
For more information on Thecus, please go to:
---
About Thecus
Thecus® Technology Corp. specializes in IP Storage Server solutions. The company was established in 2004 with the mission to make technology as transparent and easy-to-use as possible, and to make products that are not only the best on the market, but are accessible to experts and novices alike. With a best-in-class R&D team highly experienced in storage hardware and software and with a keen customer focus, Thecus® stays close to the market to develop high-quality products to fulfill the storage needs of today's world.
For more information, please visit the Thecus® website at: http://www.thecus.com
For sales and other inquiries, please contact us via email: sales@thecus.com