For sales inquiries,
please contact us at:


sales@thecus.com
For marketing inquiries, please contact us at:


marketing@thecus.com
2007-08-10
"You're going to like this…the best NAS we've reviewed so far"

08/10/2007 – The Thecus N5200PRO is quickly becoming a classic in the network-attached storage world. With a huge 5TB capacity, advanced RAID options, and iSCSI support, hardware enthusiasts are clamoring for this five-bay storage device. Recently, HEXUS took the N5200PRO for a spin, and were so impressed, they saw fit to award it with their Executive Recommended Award, stating that it was the "best NAS reviewed so far"!
iSCSI support on the N5200PRO literally "wowed" Hexus editors: "Sometimes, bumping up the speed a little, or adding a couple more features, edges the product out in front of the competition. Other times, however, the additions create a magic formula that takes a product from "nice" all the way up to "wow". Thecus has recently applied the "make it better" methodology to its five-disk N5200 NAS device. It's taken the original and sped it up, added some features and come up with a cunning name, the N5200 Pro. Question is, has Thecus added the extra "wow"? We've got five letters for you, dear readers: i-S-C-S-I. What it actually does, is implement SCSI-3 over TCP/IP networking. The aim is to give the features and feel of having a SCSI disk-array inside your server/workstation, when, in reality, the drives are sat on the end of a network cable somewhere. Now that really is something."
The performance of the N5200 Pro was astounding: "Using iSCSI,N5200 Projumps to a ninja 35.64MiB/s. As the file sizes shrink, so too does the performance difference. But whichever way you look at it, iSCSI delivers a throughput boost. Win!"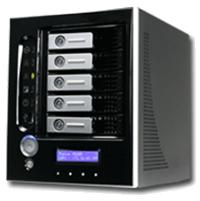 The verdict? "If you've got servers in need of extra storage but don't have any space left in them, iSCSI might well be the answer - and the N5200 Pro the device to turn to…So there you are, we've laid it out for you, plain as day. The N5200 Pro is quick and iSCSI. With such a small price difference between Pro and non-Pro, we really can't find a reason not to recommend the N5200 Pro. It's the best NAS we've reviewed so far...."
To read the full review, check out:
http://www.hexus.net/content/item.php?item=9426&page=1
For more information on the Thecus N5200PRO, check out:
http://www.thecus.com/products_over.php?cid=1&pid=32
For more information on Thecus, go to:
---
About Thecus
Thecus® Technology Corp. specializes in IP Storage Server solutions, including Network Attached Storage (NAS) and Wireless Media Bank products. The company was established in 2003 with the mission to make technology as transparent and easy-to-use as possible, and to make products that are not only the best on the market, but are accessible to experts and novices alike. With a best-in-class R&D team highly experienced in storage hardware and software and with a keen customer focus, Thecus® stays close to the market to develop high-quality products to fulfill the storage needs of today's world.
For more information, please visit the Thecus® website at: http://www.thecus.com
For sales and other inquiries, please contact us via email: sales@thecus.com