For sales inquiries,
please contact us at:


sales@thecus.com
For marketing inquiries, please contact us at:


marketing@thecus.com
2007-08-06
"A really smart network storage device for home and small offices"

08/06/2007 – For most homes and small offices, users are looking for an easy-to-implement and secure place to store and share files over a network. Thecus' YES Box N2100 fits the bill nicely with two SATA hard disk bays, a bevy of useful functions, and RAID for added data security. In their June 2007 issue, CHIP Magazine India took a close look at the N2100, and were so impressed with it, they decided to give it a 4 out of 5 overall rating!
Here's CHIP Magazine's brief introduction of the N2100: "The Thecus N2100 Y.E.S. Box is a lunch-box sized network attached storage (NAS) device. You can use it as a file server, FTP server, iTunes server, or a Photo Web server. Built with internal RAID and two Gigabit Ethernet controllers, this device is a speed monster just waiting for you to pop in a hard drive or two. The N2100 can be fitted with 2 SATA hard drives (not included in the package) in RAID 0, 1, JBOD (Just a Bunch Of Disks) modes."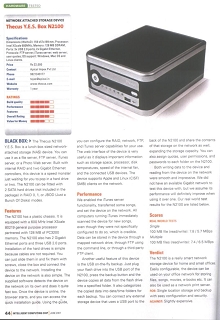 Setting up the N2100 is simple and straightforward: "Installation of the hard drives is simple because cables are not required. You can just slide them in and fix them with screws, close the box and connect the device to the network. Installing the device on the network is also simple. The supplied software detects the device on the network on its own and does it quite fast too. Once the device is online, the browser starts, and you can access the quick installation guide. Using the guide, you can configure the RAID, network, FTP, and iTunes server capabilities for your use. The web interface of the device is very useful as it displays important information such as storage space, processor, disk temperatures, speed of the internal fan, and the connected USB devices. The device supports Apple and Linux (CISF/SMB) clients on the network."
The conclusion: "The N2100 is a really smart network storage device for home and small offices. Easily configurable, the device can be used on your office network for storing files, songs, movies, e-books etc. It can also be used as a network print server. FOR: Single location storage and backup with easy configuration and security."
For the full article, check out the June 2007 issue of Chip Magazine India.
For more information on the YES Box N2100, go to:
http://www.thecus.com/products_over.php?cid=1&pid=1
For more information on Thecus, go to:
---
About Thecus
Thecus® Technology Corp. specializes in IP Storage Server solutions. The company was established in 2004 with the mission to make technology as transparent and easy-to-use as possible, and to make products that are not only the best on the market, but are accessible to experts and novices alike. With a best-in-class R&D team highly experienced in storage hardware and software and with a keen customer focus, Thecus® stays close to the market to develop high-quality products to fulfill the storage needs of today's world.
For more information, please visit the Thecus® website at: http://www.thecus.com
For sales and other inquiries, please contact us via email: sales@thecus.com