For sales inquiries,
please contact us at:


sales@thecus.com
For marketing inquiries, please contact us at:


marketing@thecus.com
2007-07-30
"The unit with the best price and performance"
07/30/2007 – With advanced features and industry-leading performance, Thecus NAS devices are tough to beat. Recently, the editors of Speicherguide.de pitted the Thecus N5200B against four other NAS units from four other manufacturers. They looked at performance, noise, and overall feature set, trying to determine the best NAS for the money. In the end, the N5200B emerged victorious, besting the other units and earning Speicherguide's recommendation!
Editors begin by talking about their roundup and describing the N5200B: "For home users and SMB, RAID systems are getting interesting. We took 5 NAS units for comparison. They are the Buffalo Terastation Pro II, the N-Tec ICE Cube, the Promise SmartStor NS4300N, the Starline easyRAID NAS EN-410ST and the Thecus N5200B. The Thecus N5200B has two Ethernet connections, USB connections on the front and back panel, and even an eSATA port which provides the best combination compared with the other four units. It takes one minute for the N5200B to turn on and 13 hours for RAID configuration. Through OCE the capacity can be expanded without interruption. The auto-rebuild brings the RAID configuration back in case the system happens to be turned off. The loudness of N5200 in the office is quite bearable. Compared with our last test, the N5200 is quite quiet."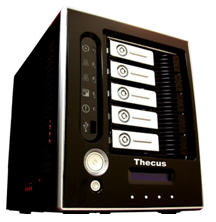 The verdict? "N-Tec and Thecus are the most expensive test units. Although N-Tec ICEcube has SCSI, it is a question if users would be willing to pay 1000EUR more. The Thecus N5200B is the test unit with best price and performance. The Buffalo Terastation is the cheapest one, but is only suitable for the living room if the HDDs are easier for exchange. The Promise SmartStor has only RAID 0 and RAID 5 while the Starline Easyraid is pretty noisy. With 150EUR more, we would rather choose Thecus N5200B."
For the full review, check out:
http://www.speicherguide.de/magazin/sata.asp?todo=de&theID=1983&lv=300&mtyp=&bhcp=1
For more information on the Thecus N5200, check out: http://www.thecus.com/products_over.php?cid=1&pid=24
For more information on Thecus, go to: http://www.thecus.com
---
About Thecus
Thecus® Technology Corp. specializes in IP Storage Server solutions. The company was established in 2004 with the mission to make technology as transparent and easy-to-use as possible, and to make products that are not only the best on the market, but are accessible to experts and novices alike. With a best-in-class R&D team highly experienced in storage hardware and software and with a keen customer focus, Thecus® stays close to the market to develop high-quality products to fulfill the storage needs of today's world.
For more information, please visit the Thecus® website at: http://www.thecus.com
For sales and other inquiries, please contact us via email: sales@thecus.com