For sales inquiries,
please contact us at:


sales@thecus.com
For marketing inquiries, please contact us at:


marketing@thecus.com
2007-07-25
Comprehensive hard drive imaging and recovery for SMBs

07/25/2007 – For small-to-medium businesses, the ability to secure data is just as important as storing it. Thecus Technology, leading manufacturer of quality digital storage solutions, is pleased to announce that it will bundle FarStone's DriveClone 3 Pro hard drive imaging and recovery software with its SMB NAS storage models. With Thecus' proven network storage technology and FarStone's renowned DriveClone 3 Pro software, small-to-medium businesses will have an even more complete out-of-the-box experience with Thecus products, and can rest easy knowing that their data is safe and secure.
DriveClone 3 Pro's external hard disk imaging lets users quickly recover, replace, or upgrade their hard drives in case of ANY catastrophic data disaster. Users use DriveClone 3 Pro to make an exact copy of both files and folders, and store them directly onto their Thecus NAS device. Simple enough for a home user, DriveClone 3 Pro still has plenty of features for the system administrator, who can copy a single disk image onto multiple computer systems, dramatically reducing the time needed to install new software, configure settings, and load data. DriveClone 3 Pro includes incremental backup functionality — saved disk images can be quickly updated to keep data current — and allows users to perform most imaging tasks or without ever leaving Windows. By including DriveClone 3 Pro with selected Thecus IP storage solutions, Thecus customers can enjoy a more robust backup solution that comes complete with unmatched functionality and value.
DriveClone 3 Pro will come bundled with the following models:
N4100+

1U4500R/S

N5200B/BR

N5200B/BR PRO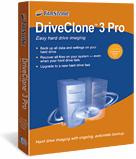 "We are pleased to be able to offer this amazing software solution to our SMB customers," notes Thecus General Manager Florence Shih. "Thecus is bringing the very best technologies to our users and the inclusion of FarStone's DriveClone 3 Pro is testament to that."
For more information on FarStone's DriveClone3 Pro, go to:
http://www.farstone.com/software/driveclone-pro.htm
For more information on Thecus, go to: http://www.thecus.com
---
About Thecus

Thecus® Technology Corp. specializes in IP Storage Server solutions. The company was established in 2004 with the mission to make technology as transparent and easy-to-use as possible, and to make products that are not only the best on the market, but are accessible to experts and novices alike. With a best-in-class R&D team highly experienced in storage hardware and software and with a keen customer focus, Thecus® stays close to the market to develop high-quality products to fulfill the storage needs of today's world.
For more information, please visit the Thecus® website at:
http://www.thecus.com
For sales and other inquiries, please contact us via email:
sales@thecus.com