For sales inquiries,
please contact us at:


sales@thecus.com
For marketing inquiries, please contact us at:


marketing@thecus.com
2007-07-19
N5200 Praised for Open Source Concept and Outstanding Performance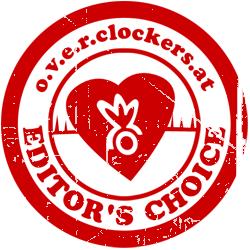 07/19/2007 – With five SATA drive bays, various RAID options, and killer performance, the Thecus N5200 has been making waves with hardware enthusiasts everywhere looking for a serious network storage solution. The folks over at Overclockers.at recently got their hands on a review unit, and put it through the ringer. What they found was a NAS solution with outstanding performance, features, and portability – a dream come true for hardware freaks. In the end, they saw it fitting to award the N5200 with their coveted Editor's Choice Award!
Overclockers.at found that the N5200 would also be great at LAN parties: "Our Thecus N5200 had to prove itself likewise on a LAN party…The transportability is extraordinarily good. It has no external power pack, and only had to throw a power cable into the backpack. Quickly another advantage became apparent: we switch our NAS on and within one minute everything was on-line, problem-free. Plug and Play solutions at LAN parties are always desired."
So how was the performance? "It is interesting that the speed was achieved with 15 simultaneous accesses. Downloads were constant…Also here we could observe that the Celeron M could not be forced to its knees."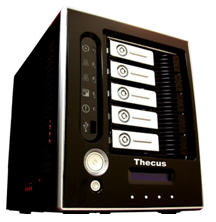 The conclusion: "All in all the N5200 did not disappoint us under any circumstances! The features it promises hold, the performance makes it perfect for the archiving of files, and fast processing form the icing of a solid NAS solution. Also, the support can also be seen - the firmware is improved from release to release and always brings new features and other improvements with it. Should there be problems, then either the intended Wiki can be consulted or one can be helped in the dedicated help forum on hexus.net or Thecus User Group."
For the full review, check out: http://www.overclockers.at/articles/thecus_n5200/page_1
For more information on Thecus, go to: http://www.thecus.com
---
About Thecus
Thecus® Technology Corp. specializes in IP Storage Server solutions. The company was established in 2004 with the mission to make technology as transparent and easy-to-use as possible, and to make products that are not only the best on the market, but are accessible to experts and novices alike. With a best-in-class R&D team highly experienced in storage hardware and software and with a keen customer focus, Thecus® stays close to the market to develop high-quality products to fulfill the storage needs of today's world.
For more information, please visit the Thecus® website at: http://www.thecus.com
For sales and other inquiries, please contact us via email: sales@thecus.com