For sales inquiries,
please contact us at:


sales@thecus.com
For marketing inquiries, please contact us at:


marketing@thecus.com
2007-07-19
N5200BR and N2100 come away with top honors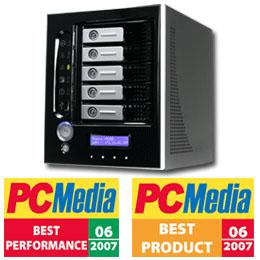 07/19/2007 – Thecus storage solutions have been garnering awards from all over the globe. The editors of PCMedia Magazine took a look at the N5200BR and N2100 in their June 2007 issue and were very impressed. In fact, these two Thecus products won not one, not two, but three awards in a single issue, including awards for Best Performance, Best Product, and Best Buy!
Here's what had to say about Thecus and its N5200BR: "One of the RouStor series from Thecus is the N5200BR, which support an integrated router to make any system admin's job easier by allowing them to tweak the network environment with the NAS. The most important thing on the Thecus N5200BR is support for RAID 0, 1, 5, 6, 10, JBOD. With so many options, you can choose the best configuration to put your important data with nicely on the N5200. Of course, its hot-swappable capability enables you to upgrade to any bigger SATA drive to store more data without worrying about buying another NAS...Installation is very easy. The bay slots come with lockable disk trays for standard security, any configuration will be accepted on the fly from the web based menu."
PCMedia's conclusion about the N5200BR: "Beside the other NAS products, we can say this box really get our attention so far when many peoples searching for the others without any clue."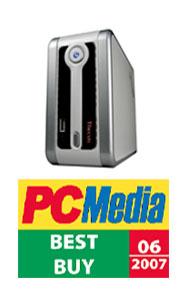 But PCMedia wasn't through quite yet. Here's their assessment of the N2100: "Providing two HDD bays, this NAS is one of the smartest NAS units among the others. Although the package does not include hard drives, Thecus gives us the "freedom to choice" to use any SATA hard drive on the market…We are very satisfied with the total performance…Another thing which makes N2100 unique is support for mini PCI / dongle wireless. As we can imagine, you can put your data on this cute box and then use the data anywhere nearby the box without any wires."
For the full review, check out the June 2007 edition of PCMedia Magazine.
For more information on the Thecus N5200BR and Thecus YES Box N2100, check out:
N5200: http://www.thecus.com/products_over.php?cid=1&pid=8
N2100: http://www.thecus.com/products_over.php?cid=1&pid=1

For more information on Thecus, go to: http://www.thecus.com
---
About Thecus
Thecus® Technology Corp. specializes in IP Storage Server solutions, including Network Attached Storage (NAS) and Wireless Media Bank products. The company was established in 2003 with the mission to make technology as transparent and easy-to-use as possible, and to make products that are not only the best on the market, but are accessible to experts and novices alike. With a best-in-class R&D team highly experienced in storage hardware and software and with a keen customer focus, Thecus® stays close to the market to develop high-quality products to fulfill the storage needs of today's world.
For more information, please visit the Thecus® website at: http://www.thecus.com
For sales and other inquiries, please contact us via email: sales@thecus.com