For sales inquiries,
please contact us at:


sales@thecus.com
For marketing inquiries, please contact us at:


marketing@thecus.com
2011-08-18
Keep all your photos in one easy place with this advanced interface

08/18/2011 – Although Thecus NAS have many functions; storage, backup, remote access, iPhone access, and so on, the true goal and end result is forming a connection. Connecting people to information, digital networks, entertainment, and, most importantly, other people. Having your own personal photo server lets you give people an easy link to your life, which they can revisit at their leisure to get a glimpse of what you want to share. Anything above and beyond that simple function is an added bonus, letting you share more or guard your personal life as you feel fit.
Thecus's new Piczza! photo server expounds on that idea by giving you a powerful tool to share photos with others remotely or locally. An administrator can create multiple accounts, allowing everybody in your home, or even in your business, to manage their own photo gallery and browse through others' public albums. This creates a community of photo galleries to bring people together.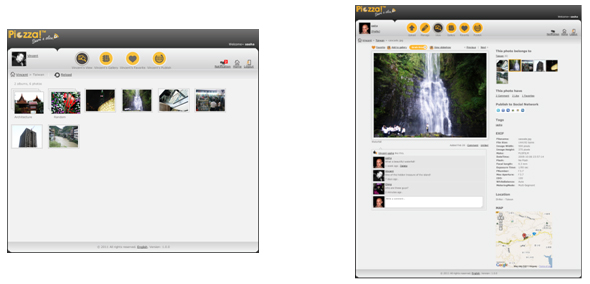 Piczza! Album View Piczza! Photo View
In a home it might be a family trip, and in an office it might be the Christmas party, but either way everyone can upload their own photos and pick and choose which ones to share. As your photo library, as well as your friends' public libraries, grows, Piczza!'s myriad features come to life. Users can make galleries out of not just their own photos, but photos from their friends' albums as well. So go through your friends' photos and add them to your "Good times" gallery, leave a funny comment, or just click the "Like!" button to show your approval. Tagging you and your friends in pictures is also very easy with the straightforward point-and-click interface. Just in case you missed something, the "Notification" tab lets you keep yourself informed of your friends' latest albums, comments, and tags without being harassed by unwanted pop-ups and messages.
Piczza! also lets you take advantage of the latest and greatest from around the web. You can upload individual photos or entire albums to Facebook, Twitter, MySpace, or a number of other social networking sites in just a few clicks. Piczza! also utilizes Google Maps awesome power by allowing you to tag your photos by location with an included interactive map next to each photo. Searching for locations is as simple and accurate as a standard Google Maps search and takes seconds. So if your albums "Adventures in Sumatra" or "Trip to Ankara" leave people reaching for their maps, don't just write it, tag it!
Managing your albums and galleries in Piczza! is simple, efficient, and fun. Files can be uploaded en mass to save time and a lot of tiresome clicking. As you are browsing through photos, you can tag photos for viewing in "Favorites", add them to other albums or galleries, or grab the html link to use in your blog. Keeping your private photos secure from prying eyes is also a strong focus in Piczza!. Each user has the power to make an album public or private, limit access to a few specific friends, or set a password.
To test-drive Thecus's Piczza! photo server, go to: http://n5500demo.gotdns.com/index.php
Username: thecus
Password: thecus
---
About Thecus®
Established in 2004, Thecus Technology Corp provides market leading network attached storage and network video recorder solutions, committed to revolutionize how everyone from home user to enterprise level business centrally stores, manages and accesses their digital data both onsite and cloud-based. Thecus strives to deliver continuous innovation through cutting edge technology and design to provide data storage with the most customer-friendly platform, rapid performance and robust security. In May 2016, Thecus was formally acquired by Ennoconn Corporation and thus became part of the Foxconn IPC Technology group. Partnered together this diverse group of companies work in tandem to provide a total IoT (Internet of Things) solution. Now with an unparalleled portfolio to work with, Thecus is collaborating to bring unprecedented change to the network storage industry.