For sales inquiries,
please contact us at:


sales@thecus.com
For marketing inquiries, please contact us at:


marketing@thecus.com
2007-06-15
Storage leader redefines the ultimate five-bay NAS device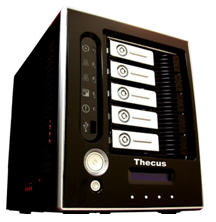 06/15/2007 – No stranger to innovation, Thecus Technology continues to redefine network storage. Thecus brought NAS storage to the home with the two-bay N2100, and powerful, flexible NAS storage to SMB's with the N5200. Today, Thecus is pleased to introduce its latest NAS device – the N5200PRO. With unparalleled performance and a bevy of useful features, the N5200PRO brings together Thecus' latest and greatest storage technologies for a NAS device unlike any other.
Designed for hardware enthusiasts and SMBs, the N5200PRO packs some serious power under the hood. Driving the N5200PRO is an Ultra-Low Voltage Intel® Celeron® M Processor and 512MB of DDR memory, making the N5200PRO the fastest 5-bay NAS on the market. With five 3.5" SATA drive bays, the N5200PRO features up to 5TB of storage capacity, and support for multiple RAID levels allows multiple RAID volumes on a single system for optimal flexibility. To access data faster than ever before, the N5200PRO supports iSCSIinitiators, enabling users to access the N5200PRO as an iSCSItarget device over the Internet or LAN. With these features, users will experience high system performance, flexibility, and data reliability.
But that's not all. The N5200PRO offers superior power management features with scheduled power on/off and Wake-on-LAN. Users are able to have the system turn on and off to conserve energy and lower overall cost of ownership. To back up data, the N5200PRO comes complete with Thecus' suite of backup utilities, including the Thecus Backup Utility and Nsync, Thecus' remote backup solution. With the built-in LCD screen, the N5200PRO is a breeze to setup and administer, and an eSATA port allows for easy storage expansion.And because the network has to be reliable, Thecus offers two options for users. Users that need load balancing and failover can choose the N5200B PRO, while users that prefer a built-in 4-port Gigabit switch can opt for the N5200BR PRO. No matter which is chosen users can look forward to Thecus' signature performance, reliability, and ease-of-use.
"We've taken the very best Thecus technologies and included them into the N5200PRO," says Thecus General Manager Florence Shih. "With a long list of new features and improvements, we're confident that the N5200PRO will impress hardware enthusiasts and SMBs the world over."
| | | |
| --- | --- | --- |
| SKU # | Description | Availability |
| N5200B PRO | 2 x Gigabit Ethernet | Now |
| N5200BR PRO | 1 x Gigabit Ethernet, 4-port Gigabit switch | Now |
For more information on Thecus, go to:
---
About Thecus
Thecus® Technology Corp. specializes in IP Storage Server solutions. The company was established in 2004 with the mission to make technology as transparent and easy-to-use as possible, and to make products that are not only the best on the market, but are accessible to experts and novices alike. With a best-in-class R&D team highly experienced in storage hardware and software and with a keen customer focus, Thecus® stays close to the market to develop high-quality products to fulfill the storage needs of today's world.
For more information, please visit the Thecus® website at: http://www.thecus.com
For sales and other inquiries, please contact us via email: sales@thecus.com