For sales inquiries,
please contact us at:


sales@thecus.com
For marketing inquiries, please contact us at:


marketing@thecus.com
2007-06-11
"A Kick-Ass piece of hardware that will not disappoint"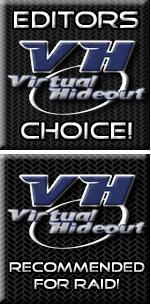 06/12/2007 – The Thecus N5200 continues to impress power users around the world. Recently, the editors at Virtual Hideout took the N5200 for a spin, and after a series of tests, decided to award it with not one, but two awards, including their Recommended for RAID, and Editor's Choice awards!
The N5200 is designed with total ease-of-use in mind: "To start out with, you configure the unit with a start-up CD that will find the N5200 on your network and configure the admin password. It works for both Windows and OSX and is very simple to use. After everything is setup, you can access the N5200 over it's built in website. Just like any of the router control panels you have probably used. To make things easier, the LCD on the front cycles through the IP addresses that both the LAN and WAN ports currently have."
Performance on the N5200 was also impressive: "The transfer speeds are really impressive, and is a definite reason to upgrade my whole network to Gigabit Ethernet. I was a bit surprised that uploading hundreds of small files quicker than downloading them. Normally, with a RAID 5 Array, writing is a slower process than reading. I suspect these results might be because of the N5200's large onboard RAM (256MB) that allow it to buffer data."
The verdict? "I find it very hard to find any flaws in the N5200 itself...It's fast, it's small enough to be transported to LAN parties and has an incredibly powerful yet simple interface. While the average user isn't going to want to spend $1000 on a NAS, there is a large section of small businesses who should be VERY interested in this. LAN organizers should check this out, photographers, video editing, people with large collections of media, and anyone who wants a central file server that does gigabit speeds. This is high end product that has enough features and performance to earn its keep. I know this is cliché, but it's a Kick-Ass piece of hardware that will not disappoint."
For the full review, check out: http://virtual-hideout.net/reviews/Thecus_5200/index.shtml
For more information on the Thecus N5200, check out: http://www.thecus.com/products_over.php?cid=1&pid=8
For more information on Thecus, go to: http://www.thecus.com
---
About Thecus
Thecus® Technology Corp. specializes in IP Storage Server solutions, including Network Attached Storage (NAS) and Wireless Media Bank products. The company was established in 2003 with the mission to make technology as transparent and easy-to-use as possible, and to make products that are not only the best on the market, but are accessible to experts and novices alike. With a best-in-class R&D team highly experienced in storage hardware and software and with a keen customer focus, Thecus® stays close to the market to develop high-quality products to fulfill the storage needs of today's world.
For more information, please visit the Thecus® website at: http://www.thecus.com
For sales and other inquiries, please contact us via email: sales@thecus.com